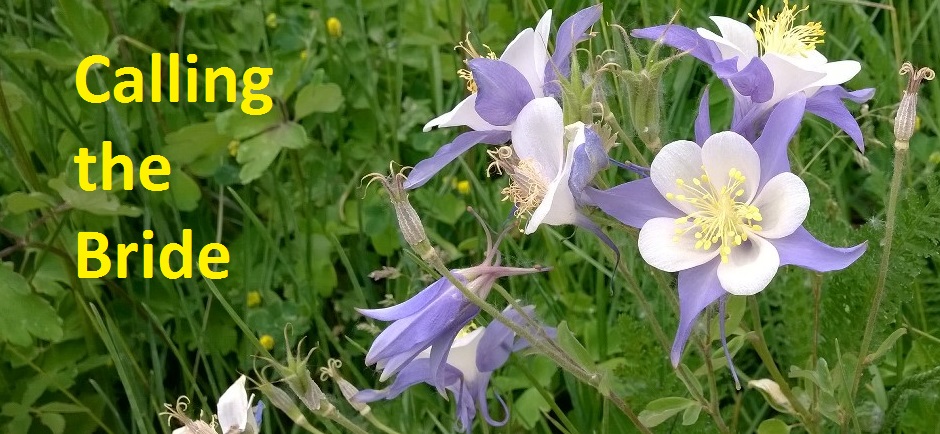 Right now, there is a call going out for the Bride of Christ. This isn't salvation. It's complete intimacy with Christ and transformation into his image. Not everyone is going to make it. But for those who say "Yes" to walk the path, this is a reason to live – a lifetime goal of being joined to our Creator.
This path is not just for the hereafter. It's for us to walk in now. Deeper revelation has already begun. There's no greater invitation in all the universe. But you need to meet him for yourself.
God Will Give His Son a Bride
Jesus spoke of heavenly things through earthly parables. John 3:12 There is a portion of the church that is spoken of like a bride.
•  Matthew 22:2-14. The kingdom of heaven is like a king who prepared a wedding banquet for his son. He sent his servants to those who had been invited to the banquet to tell them to come, but they refused to come.
•  Matthew 25:1-13. At that time the kingdom of heaven will be like ten virgins who took their lamps and went out to meet the bridegroom. Five of them were foolish and five were wise. The foolish ones took their lamps but did not take any oil with them. … But while they were on their way to buy the oil, the bridegroom arrived. The virgins who were ready went in with him to the wedding banquet. And the door was shut.
•  Jesus' first miracle was at a wedding, foreshadowing his purpose: John 2:1-11. And the third day there was a marriage in Cana of Galilee … When the ruler of the feast had tasted the water made wine, [he] called the bridegroom … you have kept the good wine until now. See also John 3:29.
•  Revelation 19:7. Let us rejoice and be glad and give him glory! For the wedding of the Lamb has come, and his bride has made herself ready.  See also Revelation 21:2.
Paul also writes of the bride, relating the union to Christ as the union of man and wife, and of Adam and Eve.
•  Ephesians 5:31-32. "Therefore a man shall leave his father and mother and hold fast to his wife, and the two shall become one flesh." This mystery is profound, and I am saying that it refers to Christ and the church.
•  1 Corinthians 6:17. But he who is joined to the Lord becomes one spirit with him.
•  2 Corinthians 11:2-3. I have espoused you to one husband, that I may present you as a chaste virgin to Christ. But I fear, lest by any means, as the serpent beguiled Eve through his subtlety, so your minds should be corrupted from the simplicity that is in Christ.
Knowing that Adam is symbolic of Christ (Romans 5:14), we can see the original purpose of God declared from the beginning: That mankind was to be made in the image of God, so that a suitable helpmate would be found for the Son of God:
•  Genesis 1:26-27. Then God said, "Let us make man in our image, after our likeness. And let them have dominion over the fish of the sea and over the birds of the heavens and over the livestock and over all the earth and over every creeping thing that creeps on the earth." So God created man in his own image, in the image of God he created him; male and female he created them.
•  Genesis 2:18-23.   Then the Lord God said, "It is not good that the man should be alone; I will make him a helper fit for him." Now out of the ground the Lord God had formed every beast of the field and every bird of the heavens and brought them to the man to see what he would call them. And whatever the man called every living creature, that was its name. The man gave names to all livestock and to the birds of the heavens and to every beast of the field. But for Adam there was not found a helper fit for him. So the Lord God caused a deep sleep to fall upon the man, and while he slept took one of his ribs and closed up its place with flesh. And the rib that the Lord God had taken from the man he made into a woman and brought her to the man. Then the man said, "This at last is bone of my bones and flesh of my flesh; she shall be called Woman, because she was taken out of Man."
To be suitable for Christ, we must be transformed into the image of Christ. Romans 8:29; 2 Corinthians 3:18; 2 Corinthians 6:14.
The calling of the Bride is God's invitation to be joined to His Son – in oneness, as Father, Son and Spirit are joined in one.
•  John 14. … Believe Me that I am in the Father and the Father in Me … If you love Me, keep My commandments.  And I will pray the Father, and He will give you another Helper, that He may abide with you forever—the Spirit of truth, whom the world cannot receive, because it neither sees Him nor knows Him; but you know Him, for He dwells with you and will be in you. … At that day you will know that I am in My Father, and you in Me, and I in you.
There is no way to grasp the magnitude of this offer. God has invited us to be like Him, to be made perfect, to be called his Son, to call Him Father, to be a King and Priest, to sit on His throne, to have his joy inside us, to be fruitful, to be clothed in righteous deeds for eternity (which flow from intimacy), and to rule over all creation.
Jesus wants us to seek Him as a first love.
•  Exodus 20:3.  You shall have no other gods before me.
•  Matthew 22:36-40.  "Teacher, which is the greatest commandment in the Law?" Jesus replied: "'Love the Lord your God with all your heart and with all your soul and with all your mind.' This is the first and greatest commandment. And the second is like it: 'Love your neighbor as yourself.' All the Law and the Prophets hang on these two commandments."
He is the Pearl of great price and the Treasure hidden in a field. Anyone unwilling to leave everything behind isn't worthy of Him.  And the whole of creation groans for us to arise.
Relationship has a Cost
When people get married, they give up some of what they had when they were single. But they gain something far more valuable: relationship.
Relationship doesn't come from mere belief, but from time spent in fellowship. The Lord explained it me in a song: There's a cost to the ring. A cost to the cross. A cost to what's gained. A cost to what's lost.
A great deal of time and expense is invested in getting married. Dating, engagement, a wedding, a honeymoon, a home, etc. Yet we value the idea of having a family above most anything else. It's a focus of life to achieve these things; and indeed, we're designed this way – to bear fruit and come into relationship with God. To seek Him as a first love, to which nothing else compares.
And so maturing into the bride is not the same as getting saved. Salvation is a free gift for those who call on the Lord. Ephesians 2:8-9. But oil must be purchased. Matthew 25:1-13. We purchase it by knowing Him and doing His will. John 14:21.  His will is intimacy. Trade time for intimacy. Trade whatever we get for intimacy. This is not a path of deathbed confessions. Relationship must be walked out here, on earth. Luke 16:10.
In the weeks and months that follow, we'll explore this path and embracing Christ as our First Love.
This is not about belief, or a promise of an afterlife. This is a lifestyle of experience. You have to meet Jesus for yourself. Encounters are happening now.
Let Jesus Do the Work, Just Come to Him
A lot of people have had these images defiled. The images of a first love, a marriage, a father, or a family. But this is not a wrathful, restrictive God, as he is often portrayed.
This is the loving father God who welcomes even the prodigal son returning. This is Christ to whom all the nations that ever existed are not even a drop in a bucket.  God who is light and who is love. God whose understanding is vastly beyond us.
If you wait to get cleaned up yourself, you'll never make it. Jesus is the one who does the cleaning. Malachi 3:2-3.  Our calling is to say "Yes" and show up. Jesus taught that "many are called, but few are chosen." The chosen are the ones who show up. Matthew 22:2-14.
A Prayer
Lord Jesus, I pray for all those who hear this message that they may receive it and begin seeking you as a first love. I pray that their hearts may be sanctified, and their imaginations cleansed. I pray they may know you as a loving father, and find in you a reason to dedicate their lives, to know you and bear fruit for your kingdom. Amen.