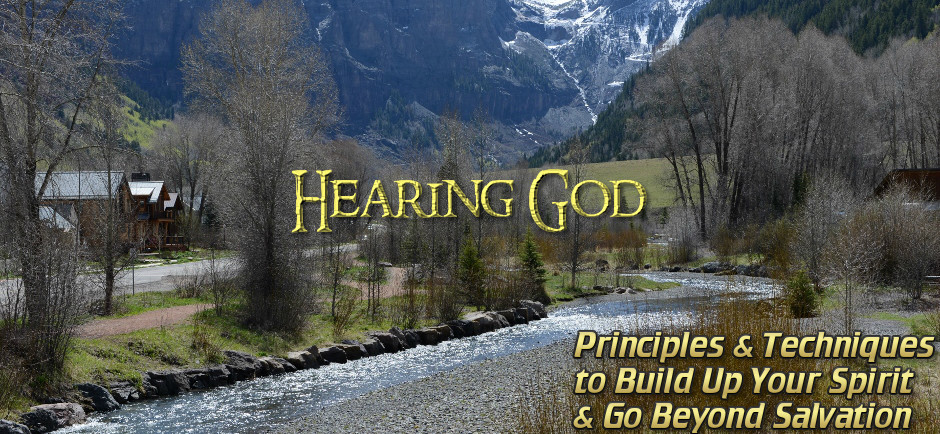 Intro
In early 2008, I began a journey to learn how to hear God.  I'd spent a lifetime going to church and reading the Bible, but my understanding was limited.  I had to relearn some of the basics and change my motivation.  So I've titled this effort Hearing God since that was my quest.
Therefore, I present to you my studies into the principles and techniques for going beyond salvation into the deeper things of God.  These are things that anyone can read and do.  This format is intended to (1) move through topics quickly, so you can start practicing without delay, and (2) fill you up with God's Word on every topic.  I pray you will be blessed.
Summary
"Forgotten Basics" is a collection of articles exploring principles needed for advanced study, which aren't commonly taught.
The YouTube Playlist is here for GoodGrainTV
Importance of the Word – Start here.  This section explores how God uses His Word to speak to us and build us up, including the visual language God uses in both parables and dreams.  Understanding these principles is an introduction to all the more advanced materials that follow.
Those who recognized Jesus – as a baby –  An example of principles in action, people close to God immediately recognized what God was doing when Jesus Christ was only baby.
God Speaks in Dreams – Heroes of the Bible had a great understanding of how God speaks to us in dreams; principles available to you today.
Go Beyond Salvation – Salvation is only the beginning of Christianity.  We are training and qualifying to rule for Christ.
Baptism is Critical – Little known; water baptism is not merely symbolic.  It is a command of Christ.  Spiritual power is released to overcome sin and "see" the Kingdom of God.
Love and Trials – We are meant to be overcomers.  New Christians (and old) need to understand overcoming troubles with a spirit of joy and love.
End Times and Myths – Some of the popular end-times stories contradict Biblical teachings.  But regardless of what happens when, Biblical principles for going through hard times remain the same.
Further Study – See the Resources tab.
"Build Up and Draw Near" provides a summary of techniques for building up your spirit and drawing near to God through Jesus Christ.  James 4:8 ("Draw near to God and He will draw near to you.").  There is certainly more to learn, for me as well.  But these are things we can do every day, with an explanation of the Biblical principles that make them work.  James 1:22 ("Do not merely listen to the word, and so deceive yourselves. Do what it says.").
Know the Word
– Several techniques for making the Word a part of you.
Praise and Worship – The difference between Praise and Worship and Biblical principles for doing both in a manner that pleases God.
Ministering to the Lord – Going beyond Praise and Worship to provide fellowship and ministry to the Lord.
Waiting on the Lord – A powerful technique with promises of great blessings.
Prayer and Travail – Principles for effective prayer, and giving birth to something new by travailing in prayer.
Fasting – Principles for fasting, and importance for spiritual deliverance.
Renew Your Mind – Be transformed by the renewing of your mind to be more like Jesus.
Good Health and Communion – Spiritual health is improved by good physical health and Communion.
"Advance and Bear Fruit" provides principles for multiplying what we've been given, advancing in faith and better ministry techniques to impact the world around us.
Multiply Gifts – Principles for bearing fruit for the Kingdom of God and multiplying what God has given to us.
Advance in Faith – Principles for advancing into the Kingdom of God, even when you don't know the way.
Better Teaching, Part 1:  Scripture-Based Speaking – Traditional sermons are boring.  Long talks don't feed people spiritually.  Worse, it emphasizes a person's speculation over the Word of God.  There are better methods.  The most simple is using scripture to teach principles, supported by comments and testimony.  Scripture-based speaking works because it allows the Word of God to work.
Teaching Part 2:  When Safety Isn't Safe – In doing business-as-usual, churches risk a danger of (1) preaching "safety" when trouble is coming, and (2) missing the critical timing of seeking God before trouble comes.
Teaching Part 3:  Relationship Above Doctrine – Many churches are burdened by theology, especially when speculation becomes an idol that replaces a relationship with God.  And they miss the next move of God when it doesn't fit neatly in the pattern they know.
Fatherhood in the Church – As a father, the welfare of my children is more important than my own.  Fatherhood IS the Kingdom model for Christian leadership.
The Ascension articles explore things you can do as a seer, including ascension to Heaven, using the courts of Heaven, cleaning gates between the body-soul-spirit, all the way to marriage covenant with God and walking the path of life.
4.0 Ascension.  Background, Scripture, and Practice Tips to Get Started
4.1 Heavenly Realms.  A summary of places in the heavenly realms.
4.2 Courts.  How to use the Court of Accusation to get clean.
4.3 Gateways.  How to open gateways from God to our spirit, from spirit to soul, from soul to body, and from body to the world.
4.4 Freedom.  Techniques to live in spiritual freedom.  Tying concepts together for ultimate clean-up and deliverance.
4.5 Reigning.  Attaining higher levels of spiritual authority.  Mountains in the heavenly realms.
4.6 Rescue.  Using gateways, courts, and ascensions to rescue others.
4.7 Ketubah.  Entering a marriage covenant with God.
4.8 Path of Life.  About the hidden path of life, that Jesus spoke of in the Bible, as a road to supernatural health and immortality.
4.9 Death to Self.  Surrendering our self-will to live in Christ.
…
Erik