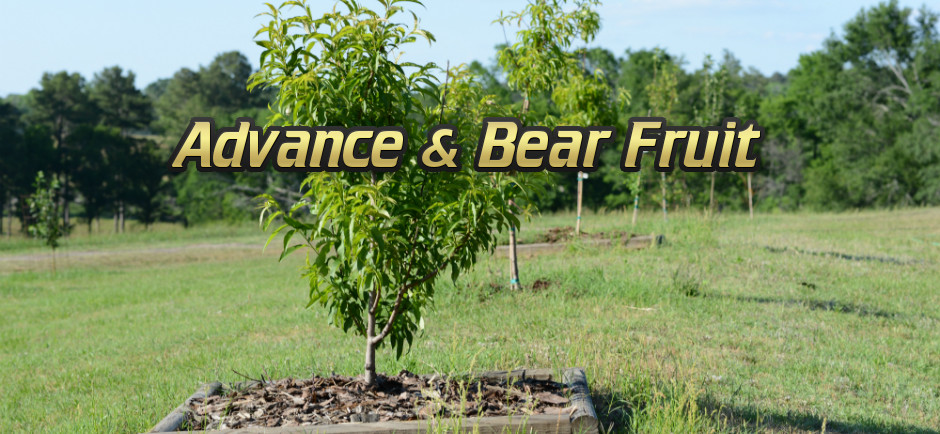 If you've read through Forgotten Basics and Build Up and Draw Near, then you've already covered principles for transforming ourselves and drawing near to God through Jesus Christ.  But we are required to do more than self-improvement.  We need to impact the world around us.  James 2:18 (I will show you my faith by my works).
"Advance and Bear Fruit" provides principles for multiplying what we've been given, advancing in faith and better ministry techniques.
Multiply Gifts – Principles for bearing fruit for the Kingdom of God and multiplying what God has given to us.
Advance in Faith – Principles for advancing into the Kingdom of God, even when you don't know the way.
Better Teaching, Part 1:  Scripture-Based Speaking – Traditional sermons are boring.  Long talks don't feed people spiritually.  Worse, it emphasizes a person's speculation over the Word of God.  There are better methods.  The most simple is using scripture to teach principles, supported by comments and testimony.  Scripture-based speaking works because it allows the Word of God to work.
Teaching Part 2:  When Safety Isn't Safe – In doing business-as-usual, churches risk a danger of (1) preaching "safety" when trouble is coming, and (2) missing the critical timing of seeking God before trouble comes.
Teaching Part 3:  Relationship Above Doctrine – Many churches are burdened by theology, especially when speculation becomes an idol that replaces a relationship with God.  And they miss the next move of God when it doesn't fit neatly in the pattern they know.
Fatherhood in the Church – As a father, the welfare of my children is more important than my own.  Fatherhood IS the Kingdom model for Christian leadership.