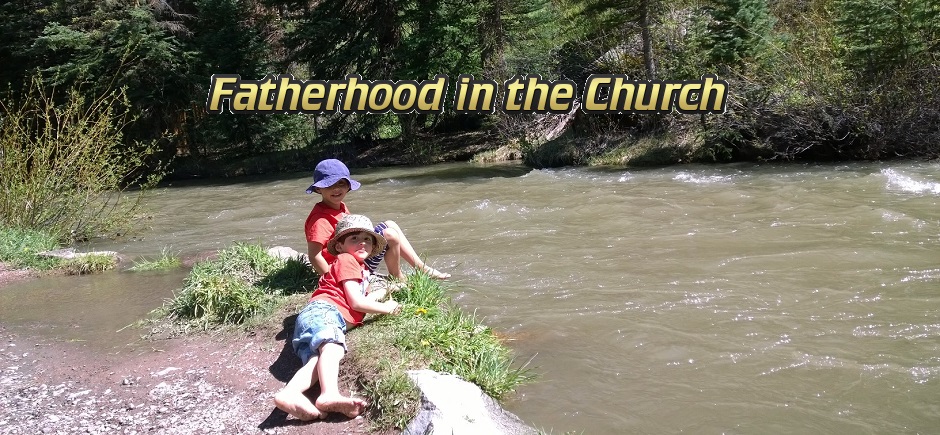 For though you might have ten thousand instructors in Christ, yet you do not have many fathers.... - Paul, 1 Corinthians 4:15
As a father, I would do anything for the two boys in the picture – their welfare is more important than my own.  This is fatherhood.  Fatherhood IS the Kingdom model for Christian leadership.  Jesus explained it like this:
•  Matthew 20:25-28.  You know that the rulers of the Gentiles lord it over them, and those who are great exercise authority over them.  Yet it shall not be so among you; but whoever desires to become great among you, let him be your servant.  And whoever desires to be first among you, let him be your slave—just as the Son of Man did not come to be served, but to serve, and to give His life a ransom for many.  See also Matthew 23:11-12.
•  Matthew 19:30.  But many who are first will be last, and the last first.
Who Do You Want As Your King?
In a perfect world, what kind of person would you choose to be your leader?  Would it be King Saul, of whom God said six times, "He will take?" 1 Samuel 8.  Or would you prefer the Apostle Paul, who would go to prison for you, be stoned and whipped for you, and who made tents so he didn't have to ask for money?
In the hierarchy of the Kingdom, Paul is the one who rules, because he is the one who serves.
Paul's Model Was to Return Help
Paul taught that people should help each other, not that help should only flow one way:
•  2 Corinthians 8:13-14.  Our desire is not that others might be relieved while you are hard pressed, but that there might be equality.  At the present time your plenty will supply what they need, so that in turn their plenty will supply what you need.
Paul's model for giving would be a powerful tool if it were ever implemented.  Faithful tithers/givers could expect help in return if they fell on hard times – not just an entry on a long prayer list, not just a hospital visit or a meal, but actual financial support in times of trouble.
Indeed, everyone who follows Christ will fall on hard times.  2 Timothy 3:12; Psalm 34:19; Matthew 10:38.  Christians could use a father figure in a church to return a little of the help that they already gave.
Many preachers exhort their flock to give more.  But fathers should love their children first.   
•  Malachi 4:6.  And he will turn the hearts of the fathers to the children, and the hearts of the children to their fathers, lest I come and strike the earth with a curse.
•  James 1:27.  Pure and undefiled religion before God and the Father is this: to visit orphans and widows in their trouble, and to keep oneself unspotted from the world.
•  Matthew 25:40.  Assuredly, I say to you, inasmuch as you did it to one of the least of these My brethren, you did it to Me.
•  2 Corinthians 12:14-15.  Now for the third time I am ready to come to you. And I will not be burdensome to you; for I do not seek yours, but you. For the children ought not to lay up for the parents, but the parents for the children. And I will very gladly spend and be spent for your souls; though the more abundantly I love you, the less I am loved
I once heard a preacher say that a few tithers had lost jobs, and then lament how it affected his church.  But I didn't see a collection taken for the unemployed tithers.  This isn't how a community of believers should be.  Acts 2:44-45; 4:32-35.
Today, Christians are in a hard position.  If they want to tithe, they take great risk, because they are not giving into a "storehouse."  Malachi 3:10.  When trouble comes, preachers punt the problem to God by asking for miracles, rather than applying Biblical principles to the issue at hand.  A father would see that the community of believers IS the miracle they seek.  Christians who have sown into their community should reap something back in time-of-need.
(Imagine the Amish coming together to build a barn.  "Amish also feel a deep sense of security in knowing that the community they are a part of will return the favor if they ever find themselves in need.")
A Father Takes Care of His Own
Jesus instructed Peter, "Feed my sheep."  John 21:17.  Taking care of our own people shows a father's heart.  Matthew 9:36.
But we don't always have a father's heart in the churches.  We collect tithes, but not to be a "storehouse" as required by Malachi 3:10.  When churches raise money, it's usually for themselves or for unknown people far away in extreme poverty.  I've never heard a pastor also promise to support his own people when they are in trouble.  (Churches often do good works, but I've not seen this one.)
A Story, as I recall:  Houston, 2010.  In the teeth of the Great Recession, as people were losing jobs and homes – us among them – we happened to attend a large church with over 15,000 members.  Although the existing building was fine, the preacher decided he wanted an even nicer one.  So he started a fund raiser for ~$31 million.  And he gave a sermon about how not to ask the church for help, suggesting he would offer minimum wage ($7.25/hr) to dig ditches out back and then fill them up again.  I never returned.  I heard the preacher got his building, and did help one person who was in really bad shape.  But in the midst of the economic crisis, an opportunity was missed and a cold heart was revealed.  And the well-to-do went along with it.
If only there had been a father in this great church….
(This problem arises from immature theology that doesn't teach being transformed into Jesus.  People end up serving their own egos, which can lead to spiritual blindness and jealousy.  And so we've heard of much worse.  There are even preachers who will slander and use their influence to break the finances of another ministry – even one who doesn't compete with them in any way. In Biblical times, ego-driven leaders were willing to kill.  Acts 7:54-60.)
A Father Leaves a Legacy
To restore the church, fathers need to create a legacy.  When I first studied these things, I had several dreams about playing football or basketball.  I was scoring a lot and winning the game.  But that did not please God.  I had to help someone else learn to do the same.
Kingdom economics follow the law of sowing and reaping.  Galatians 6:7; 2 Corinthians 9:6.  A father isn't jealous of his children.  He wants them to stand upon his shoulders and reach greater heights.  He sows into them, so they can go out and succeed.  The Kingdom of God advances in this way.
•  Matthew 13:33.  The kingdom of heaven is like leaven, which a woman took and hid in three measures of meal till it was all leavened.
•  Proverbs 13:22.  A good man leaves an inheritance to his children's children….
•  Psalm 119:99.  I have more understanding than all my teachers, for Your testimonies are my meditation.
•  Psalm 78:5-8.  For He established a testimony in Jacob, and appointed a law in Israel, which He commanded our fathers, that they should make them known to their children; that the generation to come might know them, the children who would be born, that they may arise and declare them to their children, that they may set their hope in God, and not forget the works of God, But keep His commandments….
In America, the younger generations are starving for fathers.  Fathers can't be found in pop-culture, government or corporations.  And it's a different season than when the Baby Boomers grew up.  In this cultural vacuum, fathers need to arise in the church.
•  1 Peter 5:5.  Yes, all of you be submissive to one another, and be clothed with humility, for "God resists the proud, but gives grace to the humble." (Proverbs 3:34).
•  Zechariah 11:4-17.  those who sell them say, 'Blessed be the Lord, for I am rich'; and their shepherds do not pity them.
•  Isaiah 58:6-9.  Is this not the fast that I have chosen: to loose the bonds of wickedness, to undo the heavy burdens, to let the oppressed go free, and that you break every yoke? Is it not to share your bread with the hungry, and that you bring to your house the poor who are cast out; when you see the naked, that you cover him, and not hide yourself from your own flesh? Then your light shall break forth like the morning, your healing shall spring forth speedily, and your righteousness shall go before you; the glory of the Lord shall be your rear guard. Then you shall call, and the Lord will answer; you shall cry, and He will say, "Here I am."
•  John 13:14.  If I then, your Lord and Teacher, have washed your feet, you also ought to wash one another's feet.
•  Galatians 6:2.  Bear one another's burdens, and so fulfill the law of Christ.
My proposal is not radical.  It's simply that churches make a priority of helping their own sheep – with a father's heart.
Recommended Videos:
Landon Schott on Fathers and What Son's Need, by Streams Ministries
Mystery of the Father's Blessing by John Paul Jackson
Father's Blessing by John Paul Jackson – Two minute blessing, based in part on Numbers 6:22-27.
Other verses:
•  1 Corinthians 12:25-26.  [T]he members should have the same care one for another.  And if one member suffers, all the members suffer with it; if one member is honored, all the members rejoice with it.
•  1 Chronicles 29:1-6. Then King David said to the whole assembly: "My son Solomon, the one whom God has chosen, is young and inexperienced. The task is great, because this palatial structure is not for man but for the Lord God. With all my resources I have provided for the temple of my God—gold … silver … bronze … iron … wood … onyx … turquoise, stones of various colors, and all kinds of fine stone and marble—all of these in large quantities. Besides, in my devotion to the temple of my God I now give my personal treasures of gold and silver for the temple of my God, over and above everything I have provided for this holy temple: … Now, who is willing to consecrate themselves to the Lord today?" Then the leaders … gave willingly.
…
Erik
June 2014