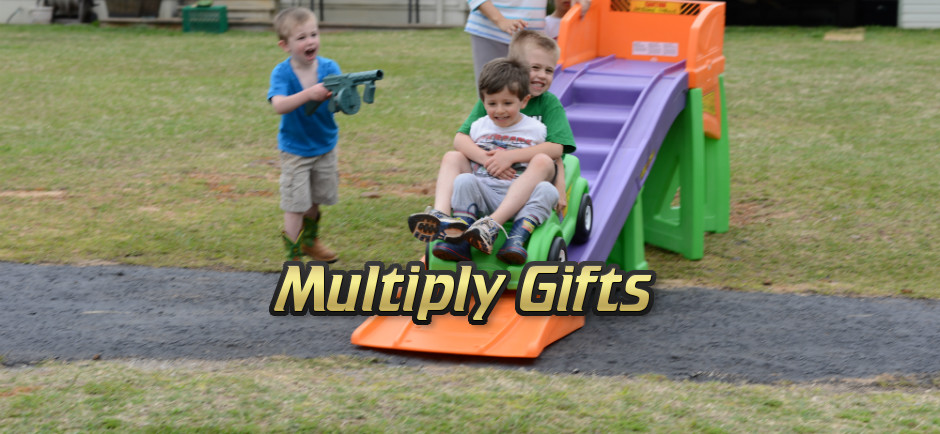 Multiply What We're Given
In our journey to be conformed into the image of Christ, we must do more than self-improvement.  Scripture demands that we multiply what we're given and bear fruit for Christ's Kingdom.
•  In the Parable of the Talents, the servant who was given ten talents and made ten more, received a reward of ten cities.  The servant who buried his one talent had it taken away.  Matthew 25:14-30.
•  Jesus performed an object lesson on a fig tree.  Since the fig tree had no fruit when he came for it, he said it would never bear fruit again.  Thus, the fig tree withered and was never able to bear figs again.  Matthew 21:18-22; Mark 11:12-14 & 20-25.
•  In the Parable of the Vine and the Branches, Jesus explains that we can only bear fruit by abiding in Him.  And those who do not abide in Him are cut off and thrown into the fire.  John 15:1-11.
Fruit of the Spirit
If we really are transforming ourselves into the image of Christ, then part of the fruit we bear is the characteristics of God that we demonstrate to the world.
•  Galatians 5:22-23.  But the fruit of the Spirit is love, joy, peace, forbearance, kindness, goodness, faithfulness, gentleness and self-control.  See also the Beatitudes, Matthew 5:3-12.
•  Matthew 5:14-16.  You are the light of the world. A city set on a hill cannot be hidden.  Nor do people light a lamp and put it under a basket, but on a stand, and it gives light to all in the house.  In the same way, let your light shine before others, so that they may see your good works and give glory to your Father who is in heaven.
•  1 Peter 2:12.  Keep your conduct among the Gentiles honorable, so that when they speak against you as evildoers, they may see your good deeds and glorify God on the day of visitation.
Sacrifice and Giving
A powerful way to multiply what we've been given is through sacrifice and giving.  Sowing and reaping is a law of the Kingdom that yields great results.  More importantly, God can multiply what we give Him.  If we have our priorities on God's Kingdom, giving to advance it should be a pleasure.
•  Proverbs 3:9-10.  Honor the Lord with your wealth and with the firstfruits of all your produce; then your barns will be filled with plenty, and your vats will be bursting with wine.  Proverbs 11:24.  One gives freely, yet grows all the richer; another withholds what he should give, and only suffers want.
•  Jesus Feeds 5,000, John 6:8-13.  One of his disciples, Andrew, Simon Peter's brother, said to him, "There is a boy here who has five barley loaves and two fish, but what are they for so many?"  Jesus said, "Have the people sit down." Now there was much grass in the place. So the men sat down, about five thousand in number.  Jesus then took the loaves, and when he had given thanks, he distributed them to those who were seated.  So also the fish, as much as they wanted.  And when they had eaten their fill, he told his disciples, "Gather up the leftover fragments, that nothing may be lost."  So they gathered them up and filled twelve baskets with fragments from the five barley loaves left by those who had eaten.
•  2 Corinthians 9:6-15.  The point is this: whoever sows sparingly will also reap sparingly, and whoever sows bountifully will also reap bountifully.  Each one must give as he has decided in his heart, not reluctantly or under compulsion, for God loves a cheerful giver. … You will be enriched in every way to be generous in every way, which through us will produce thanksgiving to God.
•  Galatians 6:7. Do not be deceived: God cannot be mocked. A man reaps what he sows.
There are all manner of things people sacrifice to God, whether money, time, ministry, praise and worship, helping the poor, etc.  We each have to decide what we can do based on our circumstances.  2 Corinthians 9:7.  But do something dedicated to God's Kingdom.  Not nothing.  Not something for the world system, which is an enemy to God.  James 4:4.  But do something for God.  There are rewards.
•  Matthew 25:40.  Truly, I say to you, as you did it to one of the least of these my brothers, you did it to me.
•  Matthew 10:40-42.  Whoever receives you receives me, and whoever receives me receives him who sent me.  The one who receives a prophet because he is a prophet will receive a prophet's reward, and the one who receives a righteous person because he is a righteous person will receive a righteous person's reward.  And whoever gives one of these little ones even a cup of cold water because he is a disciple, truly, I say to you, he will by no means lose his reward.
We can also use sacrifice to come into God's presence.
•  Hebrews 13:15-16.  Through [Jesus] then let us continually offer up a sacrifice of praise to God, that is, the fruit of lips that acknowledge his name.  Do not neglect to do good and to share what you have, for such sacrifices are pleasing to God.
•  Solomon used sacrifice to come into presence of God.  1 Kings 3:4-5:  And the king went to Gibeon to sacrifice there, for that was the great high place. Solomon used to offer a thousand burnt offerings on that altar.  At Gibeon the Lord appeared to Solomon in a dream by night, and God said, "Ask what I shall give you."
•  After the Holy Spirit was poured out at Pentecost, "awe came upon every soul, and many wonders and signs were being done through the apostles."  One of the things they were doing to move in this power was to sell their possessions and distribute the proceeds as any had need.  Acts 2:42-47.
Judgment & Loss
Just as we are blessed by blessing others, we can also face judgment or loss for failing to bless others, failing to give to the Lord, or failing to do so with reverence.
•  Matthew 25:45-46. Truly, I say to you, as you did not do it to one of the least of these, you did not do it to me.  And these will go away into eternal punishment, but the righteous into eternal life.  Proverbs 19:17.  Whoever is generous to the poor lends to the Lord, and he will repay him for his deed.
•  In the Old Testament, failure to tithe to the storehouse was viewed as robbing God.  Malachi 3:6-12.  Since he can work with and multiply what we do, doing nothing is especially troubling.
•  There is a principle of reward and punishment in Deuteronomy 28, which provides blessings for obedience and curses for disobedience.
•  Matthew 6:1-4.  Beware of practicing your righteousness before other people in order to be seen by them, for then you will have no reward from your Father who is in heaven.  "Thus, when you give to the needy, sound no trumpet before you, as the hypocrites do in the synagogues and in the streets, that they may be praised by others. Truly, I say to you, they have received their reward.  But when you give to the needy, do not let your left hand know what your right hand is doing, so that your giving may be in secret. And your Father who sees in secret will reward you.
Our Testimony
We testify by how we live, and this gives us credibility.  Galatians 5:22-23; Matthew 5:14-16; 1 Peter 2:12.
We're also to tell others what the Lord has done for us, and teach righteousness.  Even sharing with other believers builds faith and reinforces righteousness.
•  The Great Commission, Matthew 28:19-20. Go therefore and make disciples of all nations, baptizing them in the name of the Father and of the Son and of the Holy Spirit, teaching them to observe all that I have commanded you.
•  Psalm 107:2.  Let the redeemed of the Lord say so, whom he has redeemed from trouble
•  Deuteronomy 6:6-7.  And these words that I command you today shall be on your heart.  You shall teach them diligently to your children, and shall talk of them when you sit in your house, and when you walk by the way, and when you lie down, and when you rise.
•  Matthew 5:19.  Therefore anyone who sets aside one of the least of these commands and teaches others accordingly will be called least in the kingdom of heaven, but whoever practices and teaches these commands will be called great in the kingdom of heaven.
•  Joining a body of believers is helpful, since we all have gifts that can complement each other.  1 Corinthians 12.
Be Careful
A word of caution:  Be careful how much you expose yourself to those who might do you harm – or who might not be in one accord with you.  Details invite criticism if you don't have favor.  We are commanded to share the Gospel.  But we should be wise about how we do it.  Use good judgment.
•  Matthew 7:6. Do not give dogs what is holy, and do not throw your pearls before pigs, lest they trample them underfoot and turn to attack you.
•  Matthew 10:16-18.  Behold, I am sending you out as sheep in the midst of wolves, so be wise as serpents and innocent as doves.  Beware of men, for they will deliver you over to courts and flog you in their synagogues, and you will be dragged before governors and kings for my sake, to bear witness before them and the Gentiles.
There are stories about people being healed by God, who told everyone the details of how it happened, only to receive so many attacks that their own faith was shaken and the disease returned worse than before.  They also allowed bad things to be spoken over them without a sufficient rebuke in the name of Jesus.  I'm not saying we shouldn't share what the Lord has done.  Rather, we should exercise good judgment how we share, measure our own faith, and walk even closer with Jesus to build that faith.
•  Matthew 9:29.  According to your faith be it done to you.
…
Erik
July 2013