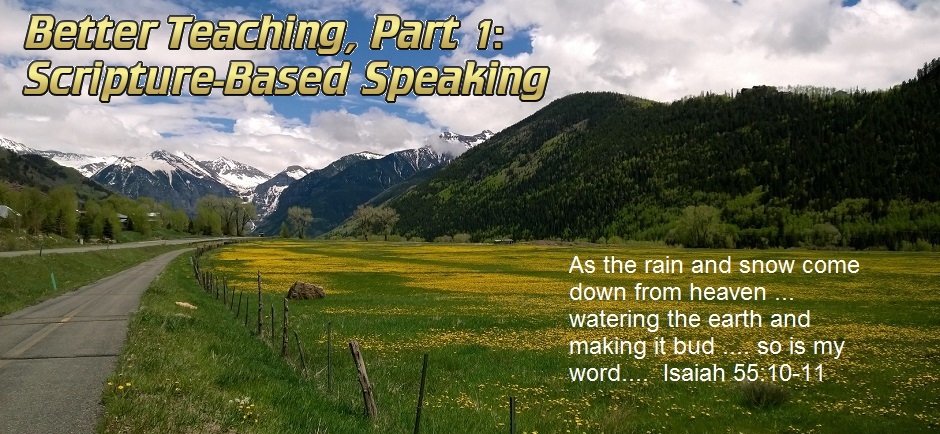 Summary:  Traditional sermons are boring.  Long talks don't feed people spiritually.  Worse, it emphasizes a person's speculation over the Word of God.  There are better methods.  The most simple is using scripture to teach principles, supported by comments and testimony.  Scripture-based speaking works because it allows the Word of God to work.  Hebrews 4:12.
A Problem in the Church
Everyone who's been to church knows that sermons can be boring.  The typical format is a short Bible passage, followed by a long talk.  Further, to keep a large congregation paying the bills, pastors stay on safe topics like not stealing, healthy living and prosperity.  Thus, sermons don't change much, don't teach much, and drag on repetitively.
Pastors know this problem.  But the usual solution is to do a good job with the old sermon format.  An expensive building provides an incredible atmosphere.  Videos and pictures enhance the talking.  Some churches even shout and jump (not that there's anything wrong with that).  But they're married to the same old format.  And we've reaped what we've sown.
The problem with traditional sermons is that we're being fed crumbs.  Long talks are the way we punish children.  No one likes them.  In the internet age of fast media, we like them even less.
(More amazing is that we keep going to church despite not being fed.  People have a deep hunger for God.)
A Simple Secret
Long ago, I saw a pastor read that churches in Africa meet for 6 hours.  He then talked a long time, making everyone late for lunch, while criticizing us for not being more like the Africans.  I've seen this kind of thing more than once.  Whatever they do in Africa, I'm pretty sure it isn't that.
Many years later, I attended a home prayer meeting on Friday evenings that continued well after midnight.  We would've met longer if anyone had time.
The secret was that we were fed spiritually.  We shared testimony and prayer needs.  We spent time in praise and worship.  Then we fed ourselves the Word – not with long opinions – but by focusing on what the Bible says about any situation.  We read many Bible passages, prayed psalms, and studied principles.  Then we prayed for needs.  Time was put to good use, and it went by quickly.
Applied to Sermons – Feed the Word of God
The simple truth is that nothing I can say compares to the Word of God.
•  Hebrews 4:12.  For the word of God is alive and active. Sharper than any double-edged sword, it penetrates even to dividing soul and spirit, joints and marrow; it judges the thoughts and attitudes of the heart.
•  Isaiah 55:10-11.  As the rain and the snow come down from heaven, and do not return to it without watering the earth and making it bud and flourish, so that it yields seed for the sower and bread for the eater, so is my word that goes out from my mouth:  It will not return to me empty, but will accomplish what I desire and achieve the purpose for which I sent it.
•  Jeremiah 23:29.  "Is not my word like fire," declares the Lord, "and like a hammer that breaks a rock in pieces?
The Bible is a thick book, and it can be presented in any useful format.  But people need to be fed the Word.  Of course we should discuss the Bible, and in fact are commanded to do so.  Deuteronomy 6:7, 11:19.  But we need to do a lot better than a single passage and a long talk.  You wouldn't eat a single peanut and consider yourself fed.  Similarly, we need to fill ourselves up on the Word of God, and then let God work in our hearts.
I write about the importance of the Word here and here, in a scripture-based writing style, so that scripture is used to make the points.  When you read, you're filling-up on scripture.  Stringing together scriptures brings out a message and shows how remarkably consistent the Bible is across authors and millennia.  For the internet, I keep it short.  But you can do more when speaking.  You can read chapters for their context.  You can emphasize and comment.  You can share testimony.  You can even take volunteers to read, building them up as teachers of the Word.  Matthew 5:19 ("whoever practices and teaches these commands will be called great in the kingdom of heaven").
Scripture-based speaking is also much safer than opinion.  2 Timothy 2:23-26.  If someone disagrees, they're disagreeing with Jesus, Paul and Isaiah.  Thus, scripture exposes their heart (Hebrews 4:12), and you know how to pray for them and minister to them.  You don't have to convince anyone.  Just testify that Jesus is real and His Word is true.  Plant the seed of the Word, and let God do His work.  Isaiah 55:10-11.  You're on solid ground with "The Bible says."  And this is the same technique Jesus used when dealing with the devil in Matthew 4:1-11.
Reading scripture is like feeding bread to your spirit.  Matthew 4:4; John 6:25-70.  The Bible calls Jesus the Word of God and the bread that came from Heaven.  John 1:1-2; John 6:25-70; Revelation 19:13.  We're to eat this bread, making Jesus part of us.  Scripture cleanses us (John 15:3), sanctifies us (John 17:17) and transforms us (Romans 12:2; Proverbs 23:7).  Feeding on the Word also builds faith (Romans 10:17), which pleases God (Hebrews 11:6), activates miracles (Luke 17:6), empowers prayer (Proverbs 28:9; John 15:7) and protects us (Ephesians 6:10-20).  God even speaks to us through scripture because the Holy Spirit acts as a reminder of it.  John 14:21-26.
Knowing these things, knowing we have limited time on Sunday morning, why do we spend our time with long talks?  Jesus' instruction to Peter was "Feed my sheep." John 21:15-17.  The Biblical principles are clear.  We are to stand on the Word, filling our spirits with scripture.  Ephesians 6:10-20.  And we won't be wrong quite as often when we do.  Matthew 22:29.
Conclusion
Feeding the Word on Sunday morning shouldn't be controversial.  People are coming to receive it.  And it wouldn't take much effort to incorporate more scripture and less pondering into standard three point sermons.  Please note that we haven't even talked about including other techniques from this website, such as practicing the Word, or being a house of prayer, or waiting on the Lord.  Scripture-based teaching is just a first step.
I don't know who will read these thoughts, or who will practice them.  Some may take offense.  But it's my pleasure to spread these ideas.  There is so much more we could be, if only we had wisdom to try.
I recognize there's not one right method for preaching.  Pastors have to make good choices based on their own unique circumstances.  The Spirit may lead us in all kinds of ways.  And there are people who would never hear about Christ except that they have a traditional place to go.  My point is to provide tools that work, which can be used in any setting, from the most traditional ceremonies to the most enthusiastic services.  It's up to the worker to select the best tool for his job.
Austin, Texas, 1998.  At the dawn of the internet age, I began my first semester of law school.  We were in the backyard of Dell Computer, and a refurbished laptop was easily affordable with a student discount.  The University of Texas embraced technology, providing digital projectors, rows of electrical sockets, and even software that allowed exam-taking on your personal laptop.
However, despite having all the power of the computer age at our fingertips, the vast majority of students and professors made no use of technology in the classroom.  Even young professors wrote on a slate board with a piece of rock, while students hand-scribbled notes on paper.  For both professors and students, it was obvious who had been in private practice or business.  We used computers.  And we were very efficient.
This wasn't a secret advantage.  It happened openly every day.  In a competitive place with top jobs at stake, you'd think everyone would rush out to buy a cheap laptop.  But no such thing happened in 1998.  Most people stuck to the old method.
Next, Teaching Part 2: When Safety Isn't Safe
…
Erik
Originally From Blog Post of October 2013