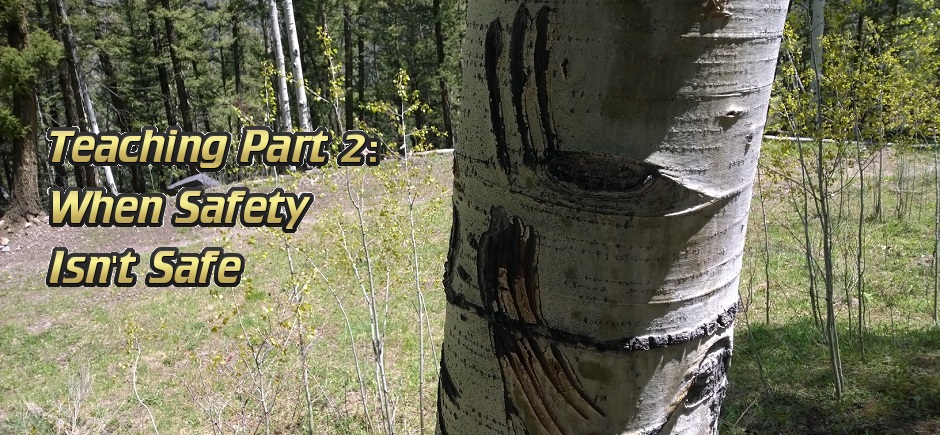 Summary:  In doing business-as-usual, churches risk a danger of (1) preaching "safety" when trouble is coming, and (2) missing the critical timing of seeking God before trouble comes.  Psalm 32:6.  Blessings are still available if we obey the commandments and abide in the Lord.  John 15:1-17; Joel 2.  And our perspective will be improved by realizing that God's purposes are redemptive, so that we may achieve our eternal destiny.
Issue:  Preaching Safety When Trouble Comes
Solomon wrote that there's nothing new under the sun.  Ecclesiastes 1:9.  In ancient times, shepherds led Jerusalem to destruction by saying "Peace" when there was none.  Ezekiel 13:10-11; Jeremiah 8:11-13.  Today, it is evident that storms are brewing.  Yet many churches are conducting business-as-usual, even while the wolf is at the door.
For a long time, this was the way to build churches – staying on safe topics that people like to hear or can agree upon.  During the season of prosperity, this method prospered, even if it left people immature.  1 Corinthians 3:1-2.
Now, we've entered a new season.   Ecclesiastes 3:1-8.  We need to know what to do.  A basic moral lesson with a blessing attached isn't going to help.  Worse, it implies safety.  And there is a great danger of being held to account for preaching "Safety" when trouble is coming.  Ezekiel 3:16-21; Jeremiah 5:11-12; Jeremiah 14:13-18; Jeremiah 23:16-17.
For example, we all know we're not supposed to lie, cheat and steal.  But that doesn't tell me how to find a job, or whether to move or buy a home, etc.  To be blessed in troubled times, better methods are needed, and people have to be raised up quickly.  There is ample content to use if one really wants to seek the Lord.  I offer a few principles below.
Shepherds have a duty to (1) discern the times and the risk, (2) inquire of the Lord, (3) give warnings and (4) build up the people or intercede.
•  (1) Luke 12:54-59.  You know how to interpret the appearance of the earth and the sky. How is it that you don't know how to interpret this present time? … As you are going with your adversary to the magistrate, try hard to be reconciled on the way, or your adversary may drag you off ….  See also Jeremiah 8:7-8.  Even the stork in the sky knows her appointed seasons, and the dove, the swift and the thrush observe the time of their migration.  But my people do not know the requirements of the Lord. "'How can you say, "We are wise, for we have the law of the Lord," when actually the lying pen of the scribes has handled it falsely?  Matthew 16:1-4.
•  (2) Jeremiah 10:21.  For the shepherds are stupid and do not inquire of the Lord; therefore they have not prospered, and all their flock is scattered
•  (3) Ezekiel 33:1-9.  But if the watchman sees the sword coming and does not blow the trumpet to warn the people and the sword comes and takes someone's life, that person's life will be taken because of their sin, but I will hold the watchman accountable for their blood.
•  (4) Ezekiel 13:3-5.  Thus says the Lord God: "Woe to the foolish prophets, who follow their own spirit and have seen nothing! … You have not gone up into the gaps to build a wall for the house of Israel to stand in battle on the day of the Lord.  Jeremiah 8:11-13.  For they have healed the hurt of the daughter of my people slightly, saying, 'Peace, peace!' when there is no peace. … Therefore they shall fall among those who fall….
•  James 3:1.  Not many of you should become teachers, my fellow believers, because you know that we who teach will be judged more strictly.
•  See also Isaiah 29:9-10.  Pause and wonder!  Blind yourselves and be blind!  They are drunk, but not with wine; they stagger, but not with intoxicating drink.  For the Lord has poured out on you the spirit of deep sleep, and has closed your eyes, namely, the prophets; and He has covered your heads, namely, the seers.
Timing is Urgent – Seek God Before the Crisis
The best crisis management is to anticipate and prepare for a thing before it happens.  Proverbs 22:3.  In seeking God, the timing is even more critical.  The Bible says we won't find Him if we wait for the crisis.  Then it becomes a lesson.  Whatever we do to seek God, it must be done now.
•  Psalm 32:6.  For this cause everyone who is godly shall pray to You in a time when You may be found; surely in a flood of great waters they shall not come near Him.
•  Proverbs 1:20-33.  Because I [Wisdom] have called and you refused, … I also will laugh at your calamity … When your terror comes like a storm, … Then they will call on me, but I will not answer….
•  Jeremiah 13:16.  Give glory to the Lord your God before he brings the darkness, before your feet stumble on the darkening hills.  You hope for light, but he will turn it to utter darkness and change it to deep gloom.
•  Zephaniah 2:1-3.  Gather yourselves together, yes, gather together, O undesirable nation, before the decree is issued, or the day passes like chaff, before the Lord's fierce anger comes upon you, before the day of the Lord's anger comes upon you!  Seek the Lord, all you meek of the earth, who have upheld His justice.  Seek righteousness, seek humility. It may be that you will be hidden in the day of the Lord's anger.
•  See also Hebrews 3:7-19.  Today, if you hear his voice, do not harden your hearts ….   Isaiah 55:6.  Seek the Lord while He may be found, call upon Him while He is near.
Spiritual preparation comes first:  seeking God now for wisdom, direction and protection.  He may warn us how to avoid a problem, or he may bless us with safety in a storm.  It's hard to know what to do without God's wisdom.
Healthy Perspectives:  God's Purposes are Redemptive
I'm not preaching a spiteful God looking for excuses to strike us.  I'm talking about a loving Father-God who doesn't want to send people to Hell, and who wants us to become everything he intended.  We'll see things differently if we long for his purposes.
•  Isaiah 26:9.  … When your judgments come upon the earth, the people of the world learn righteousness.
•  Ezekiel 18:32. For I take no pleasure in the death of anyone, declares the Sovereign Lord. Repent and live!
•  2 Peter 3:9.  The Lord is not slow to fulfill his promise as some count slowness, but is patient toward you, not wishing that any should perish, but that all should reach repentance.
•  Hebrews 12:7.  Endure hardship as discipline; God is treating you as his children. For what children are not disciplined by their father?  See also Revelation 3:19.  Those whom I love I rebuke and discipline. So be earnest and repent.
We are meant to be overcomers, to bear that testimony throughout eternity, and to qualify and learn how to be priest-kings.  We cannot do that in complacency.
•  Romans 8:29. For those God foreknew he also predestined to be conformed to the image of his Son….   Hebrews 2:10. In bringing many sons and daughters to glory, it was fitting that God … should make the pioneer of their salvation perfect through what he suffered.
•  Revelation 3:14-22. So then, because you are lukewarm, and neither cold nor hot, I will vomit you out of My mouth…. To him who overcomes I will grant to sit with Me on My throne, as I also overcame and sat down with My Father on His throne.  See also Revelation 21:7-8.
•  Zephaniah 1:4-12.  I will cut off … those who have turned back from following the Lord, and have not sought the Lord, nor inquired of Him.  …  I will search Jerusalem with lamps, and punish the men who are settled in complacency, who say in their heart, 'The Lord will not do good, Nor will He do evil.'
The blessings in scripture come from abiding in God and obeying his commands, especially in times of danger:
•  John 15:1-17.  I am the vine; you are the branches. Whoever abides in me and I in him, he it is that bears much fruit…. If you keep my commandments, you will abide in my love….
•  Psalm 91.  He who dwells in the shelter of the Most High will abide in the shadow of the Almighty…. no evil shall be allowed to befall you, no plague come near your tent.
•  Ephesians 6:10-20.  Put on the whole armor of God…
•  Joel 2.  Blow the trumpet in Zion, consecrate a fast, call a sacred assembly; gather the people, sanctify the congregation … Then the LORD will be zealous for His land, and pity His people.  See also  2 Chronicles 7:14.
Next, Teaching Part 3: Relationship Above Doctrine
…
Erik
Originally From Blog Post of November 2013