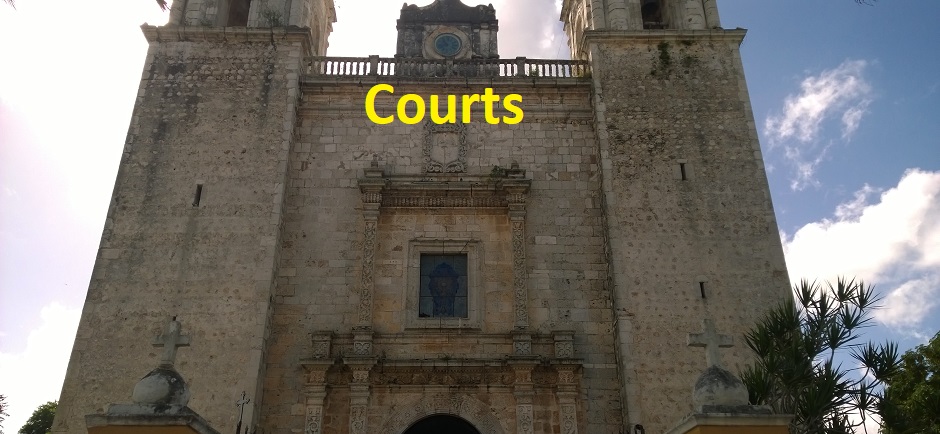 There are courts in heaven, which mankind may use.  The first is the Court of Accusation, also called the mobile court.  It's in the lower heavens where evil spirits can come and accuse man.  Men may repent of these accusations and be cleansed by the blood of Christ.  Using this court is a powerful tool to erase the legal basis that the devil uses to afflict or rob.
If this is new to you, don't worry.  The path is well mapped.  I have been here many times, and so have many others.
Scriptural Background
Jesus described prayer like going to court.  Luke 18 has the parable of the unjust judge, and the widow who kept coming to say "Grant me justice against my adversary" until she received it.
Bad theology teaches away from justice, claiming we're all so bad that we shouldn't get what we deserve.  However, in Psalm 89:14, we learn that righteousness and justice are the foundations of God's throne.  We shouldn't accept anything less than justice over our adversary.  Yes, we have all sinned.  However, Jesus died for our sins, and we have a path to forgiveness by repentance and His cleansing blood.  The mobile court provides a place to hear/see accusations against us from the adversary, and to then repent and be clean of them.
Job 2 presents a mobile court scene, where Satan accuses Job before the Lord.  Zechariah 3 presents this same scene again, but with Zechariah given clean clothes and a prophecy of the Messiah.  The mobile court allows one to be cleansed.  (Clothes are symbolic of our deeds, whether they be clean or dirty.  See Revelation 19:8 and Ephesians 5:27.)
This is why it's so important to develop our ability to hear and see spiritual things.  A seer can do this.  Here, on this stage of the journey, those skills must be applied.  It's needed to break free of spiritual forces that hold us back.
Protocols
As with many spiritual things, as they get more familiar, protocols come much faster.  Here are mine:
(1) Preparation.  (a) Have some idea of what case you will present.  Gather what God has said, from prophecies, dreams, visions, and Bible verses.  What are the promises?  What are the principles?  What accusations are you aware of that you need to repent?  (b) Set aside quiet time.
(2) "Enter his gates with Thanksgiving and his courts with Praise."  (Psalm 100:4.)  You come to God from a position of relationship, having spent time in prayer, praise, worship, and fellowship – as a lifestyle.  Don't presume you'll be received with sin in your life and without relationship.  But even if you have sin, this is where you go to deal with it and get free of it.  Regardless, enter in with thanksgiving and praise.  If nothing else, you can thank Him for the cross and making a way to be cleansed.  This Court has Jesus as your advocate and God as your judge.  It's stacked in your favor.
(3)  Invite the Parties, Advocates, and Witnesses.  Invite Jesus to be your advocate, and the Holy Spirit to be your counselor.  You can invite whoever needs to be there.  There's the cloud of witnesses, the 7 spirits of God as your tutors, and perhaps even the spirits of people on Earth.  You can also ask that any accusers be ordered to be present, if necessary.
(4) Stand under the word of the testimony and under the blood.  Then, present your case.
(5) Ask to hear accusations that need to be dealt with, or that prevent what you need from happening.  Listen, and let your mind receive thoughts or images.  Write down what you hear.
(6) Repent of accusations, until you don't hear anymore, and ask to be cleansed by the blood.  There's a principle of agreeing quickly with your adversary, from Matthew 5:25.  You're here to get clean, so go ahead and repent.  Repent means turning from a position and not doing it anymore, not just being sorry.  If that's hard, ask God's judgment on the issue you're struggling with.  If your adversary is clearly lying, you can address that too, and ask for God to examine the record.
(7) Ask for a verdict, and listen/look to see what God says or does.  We receive these things by faith.
(8) Act on that verdict.  I like to hand scrolls to angels to administer.
(9) Thank Jesus and God, and take your leave respectfully.
(10) Enforce the verdict.  The enemy is bad.  They'll violate orders if you don't enforce them.  If a verdict isn't being followed, take it back and move for contempt of court.  Ask God to enforce it, or to send angels to enforce it.
Major Areas to Address
I received all this by revelation and dreams.  These are the major areas to address:
(1) Any sin in my life.  There will be things you're not even aware of, and things that you are aware of but struggle to fix.  It's a journey.  Jesus is our priest.  The priest prepares the sacrifice.  Our job is to show up and be a living sacrifice.  Bring the issue to Jesus, and ask him to deal with it.
(2) Past sin in my life.  Effects of past sin need to be addressed.  Past sin can create legal rights for unclean spirits, if not repented of, even if you're not doing it anymore.  Go to the courts, repent, apply the blood and asked to be cleansed.
(3) Ancestral sin.  Throw out your theology.  Ancestral sin must be dealt with, and the devil does use it to accuse.  Sin can pass three or four generations.  But if sin is passed every three or four generations, it can get passed down a very long line.  For example, a terrible sin that happened 34 generations ago can leave after affects of other sins, like being controlling or violent or uncaring, which get passed down over and over again, all going back to the first crime.  There are also sins that have specific curses from the original law of Moses.  For example,  being born out of wedlock can alienate one from coming into God's presence for 10 generations.  All this can be cleansed by the blood of Jesus.
You forgive your ancestor, repent on behalf of your ancestor, ask Jesus to cleanse your ancestor and your bloodline all the way down to you and your children.  You can take this in steps if you feel led, every X generations.
(4) Childhood sin.  The first time I ever saw this, I argued with God.  But He means it.  You have to repent of all the bad things you did as a kid.  He'll remind you what's being used as accusations.
(5) Hurts.  All of us are hurt by things in our past.  It can be like ants under the soil that devour what is planted.  We need healing from it and release.  We have to forgive others and release them too.
Identify Root Causes – you have to drill down to root causes of issues.  For example, feelings of inferiority or insecurity can cause us to make wrong choices.  Fear has to be dealt with.  Cowardness is a curse.  Rev. 21:8.
Identify any areas of disobedience.  Disobedience of any kind creates demonic access points to our lives.  I see it like leaving food on the floor for a rat to eat.  Go back and list out whatever God has told you to do, that you're not walking in.  Address it with God.
Identify any idols or distractions or anything we let in that's unclean.  An idol is anything we put above spending time with God.  Now God assigns us things to do.  So that doesn't mean we should neglect our family or job.  Quite the opposite.  Eliminate anything unholy from your life — and yes, this is a journey and a process.
(6) Gateways.  This is the subject of the next post.  There are gateways between God, our spirit, our soul, our body, and the world around us.  We can use the courts to help clear them.
(7) Familiar Spirits and Strongholds.  This too is a subject for another post.  In summary, cleansing yourself will draw you into spiritual conflicts with unclean spirits operating in your life.  It seems everyone has them.  Most people would be shocked to find out how much unclean spirits influence their thoughts and decisions.  We call them familiars because of their knowledge of our history and bloodline.  But persistence leads to victory, and winning this conflict is better than letting unclean spirits operate unimpeded in your life.  Familiar spirits need to be brought to court and dealt with.  Get orders against them operating, and enforce those orders.  Likewise, strongholds in the mind are wrong patterns of thinking that need to be changed.  Whether they are from trauma or genetics, they can be dealt with here.
(8) Healings.  You can seek a verdict for healing, and identify impediments.
(9) Circumstances.  Life circumstances can be brought to court for judgment or verdict, or to identify what's hindering a good result.  The point isn't to condemn, but to fix.
List of Courts
There are other courts as well.  Here's a link to a pdf about them from Mike Parsons.
* The pic at the top is a church that we passed by while traveling through Mexico.