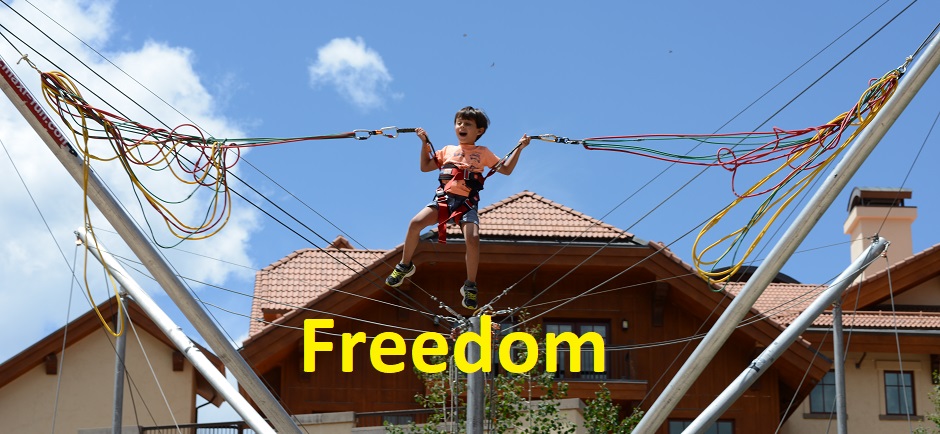 Our Goal is Freedom from Sin
The end goal of using the courts and opening gateways is a great clean-up, an ultimate deliverance ministry.  This is Freedom.  This is what it means for Jesus to save us from sin – we're not merely forgiven – we can be completely freed from sin.  You can become who you are unburdened by demonic spirits and mental strongholds – to the point where desire is cleansed and sin is not a temptation.  You can walk through life unburdened by all the wickedness that people do. 
Learning how to see and hear in the spirit realm leads to this step, to use your ability to clean yourself.  (Some people have a stronger gift of intuition, and can know more than see.  That's fine too.)
Spiritual Freedom is worth fighting for.  There's a spiritual law that what you overcome, you have authority over.  We should have no tolerance for evil spirits trying to harm us.  Don't be afraid of being drawn into spiritual conflict.  Know the protocols and use them until you're free.  Do it for each issue that God shows you.
Don't listen to anyone who says you can't be free from sin.  God says we can.  Don't accept slavery.  Choose freedom and fight for it.
Psalm 139:23-24. Search me, O God, and know my heart: try me, and know my thoughts: And see if there be any wicked way in me, and lead me in the way everlasting.
Techniques for Freedom
(1) Be a Living Sacrifice. (Romans 12:1)  What I suggest is impossible and no one can do it oneself.  But Jesus can.  A sacrifice does not prepare itself.  The sacrifice's job is to show up.  Then let Jesus do his work in you.  Whatever issue you're dealing with, take it to Jesus.  Use the courts.  Open the gateways.  Go to the Throne of Grace.  Spend time in heavenly places, like your garden, on the dance floor, and in the soaking room.  Praise and Worship.  Show up.
(2) Fill up on Jesus.  You become like what you look at.  Look at Jesus.  See him full of light and laughter.  Open the gateways and take Him in.  Fill up with his light and laughter.  (Romans 12:2 "Do not conform to the pattern of this world, but be transformed by the renewing of your mind.").  There's a paradox that it's hard to fix a negative.  But you can replace a negative with a positive.  Trade ashes for beauty.  Isaiah 61:3.
(3) Cleanse Desire.  Desire is a key.  Whatever negative desires we have, we need to take to Jesus and ask him to cleanse them.
(4) Courts, Gateways, and Mountains.  Use the courts, open the gateways, and reign on our spiritual mountains (declare court rulings and legislations).  Any spirit that bothers you, take it back to court.  If it doesn't obey court orders, move for contempt.  Call angels to enforce like you would call the police.
An easy test for any spirit is asking it to worship Jesus.  (Not just acknowledge Jesus as Son of God, but worship him.  Anyone from Heaven loves to worship Jesus.  Others, not so much.)
(5) Operate in Heavenly Realms, above the earth realm and above the demonic.  Here in the lower realms, we're faced with wave and wave of conflict.  We need to operate above that.  It's safer too.
Challenging spirits in the earthly realm can be quite dangerous.  John Paul Jackson had teaching on spirit warfare along with a book titled, Needless Casualties of War.  He saw people on earth railing against spirits in the heavens, and saw that it opened the door to horrific counterattacks.  People died, and children were badly hurt.  This is real.  We have authority to deal with things that confront us.  But real authority comes from filling up on Jesus and operating in Heavenly realms above the demonic.  Basically, don't attach spirits directly, unless you're defending yourself.  Don't launch railing accusations against spirits.  Sanctify and consecrate.  But be aware that Ian Clayton and Mike Parson's work solves the problem that Jackson identified.  Even so, I stay within whatever authority God gives me.
(6) Break Soul Ties and Renounce Ungodly Covenants.  I repent of every ungodly relationship and every ungodly covenant.  I break and renounce all ungodly soul ties.  I call back every layer of my soul with any person that isn't in a gold covenant with me, and from anyplace that isn't in heavenly realms.  — Do this as the Spirit directs you.
(7) Forgive and Release.  Forgive people and release their debt.
(8) Lie Bust.  LieBusters is a group that teaches principles of deliverance prayer.  They have powerful techniques, such as identifying areas where lies of devils are influencing you, and nailing it to the cross.  If you know anyone who does Lie Bust, I recommend it highly.
(9) Perseverance.  Keep trying.  Keep identifying and cleansing whatever God shows you.  If we want to be a manifest son/daughter of God, we want to be clean so we can represent Him and qualify for authority.  I once saw issues I needed to cleanse like coyotes in a field, so many that you could get bored shooting them all.  But the main technique is to fill up with Jesus.