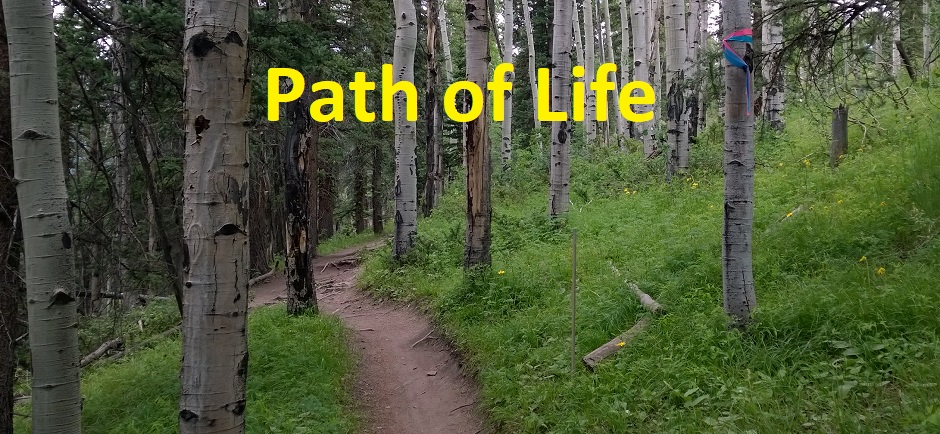 I have a series of articles on Time Streams, starting here.  Time Streams tells how I came to understand prophecy not just as pre-history, but also as guidance – presenting an array of options on our path, which we walk out.  This culminated in Time Streams 7, reproduced here.  This is my revelation that there is a path of life to immortality that few have walked – but which is possible.  The great clean-up that I've described in Level 4 Ascension leads to the path of life, accessed by the Key of Desire.
The Path of Life
There's a mystery hidden in the Bible, which I've come to understand, but haven't walked in yet.
Jesus spoke of a path of life, which few have found:
Matthew 7:13-14. Enter through the narrow gate. For wide is the gate and broad is the road that leads to destruction, and many enter through it.  But small is the gate and narrow is the road that leads to life, and only a few find it.  See also Luke 13:23-25
Traditionally, we've assumed there is a narrow path to salvation from Hell when we die.  But scripture has layers of meaning.  Jesus conquered death.  If you read this passage literally, then there is a narrow road that leads to immortality, which few have found.
If the literal meaning is true, then we expect to find other witnesses in the Bible.  (The principal of witnesses is found in Amos 3:7; Deuteronomy 19:15; 2 Corinthians 13:1).
Here are two translations of Proverbs 12:28
In the way of righteousness there is life; along that path is immortality. NIV
In the path of righteousness is life, And in the way of that path is no death! Young's Literal Translation
And Psalm 16:11
You will make known to me the path of life; In Your presence is fullness of joy; In Your right hand there are pleasures forever
The path of life is recorded from the earliest of times.
Job 33:25. let their flesh be renewed like a child's; let them be restored as in the days of their youth
Genesis 5:24. Enoch walked faithfully with God; then he was no more, because God took him away.
Some believe the Apostle John walked in this.  Amongst the four gospels, it's John who records Jesus' teachings on immortality.  This may be why John was exiled to Patmos instead of executed.  I've heard stories of ancient people still here on earth, praying for the maturing of the sons of God.
John 6:56-58. He that eats my flesh, and drinks my blood, dwells in me, and I in him.  As the living Father hath sent me, and I live by the Father: so he that eats me, even he shall live by me.  This is that bread which came down from heaven: not as your fathers did eat manna, and are dead: he that eats of this bread shall live for ever.
John 8:51 – Truly, truly, I say to you, if anyone keeps My word he will never see death.
John 6 also mentions raising people up on the last day, so there's clearly double meaning.  But if you look at verses 56-58 above, living in Christ is different than the ancient Israelites who died and who now have everlasting life in Heaven.  The story hides the deeper meaning by alternating between life and eternal life.  Fully having Christ inside leads to life without dying, and communion is a major key.
Legal Right
We have a legal right to walk the path of life through the blood of Jesus.  The price of God's son was worth vastly more than all the nations of the world, and we have rights because of it.
Isaiah 40:15-17. Surely, the nations are like a drop in a bucket … and less than nothing.
Isaiah 28:18. And your covenant with death shall be disannulled, and your agreement with hell shall not stand; when the overflowing scourge shall pass through, then ye shall be trodden down by it.
Isaiah 53:5. … the chastisement of our peace was upon him; and with his stripes we are healed.
1 John 3:8. … The reason the Son of God appeared was to destroy the devil's work.
John 10:10 – The thief comes only to steal and kill and destroy; I came that they may have life, and have it abundantly.
Keys of Life
Here are keys I've found in my studies:
Communion
John 6 is Jesus' explanation of communion as the way to partake of him and live forever.
Mike Parsons has plenty of communion material here: https://freedomarc.blog/teaching-series/communion-prayer/
We can commune with every meal, or with none – by ascending to Heaven in the spirit and partaking there.
Obedience
John's other key was obedience.
John 8:51 – Truly, truly, I say to you, if anyone keeps My word he will never see death.
1 John 2:17 – The world is passing away, and also its lusts; but the one who does the will of God lives forever.
My articles in this Time Streams series tell stories of how God speaks to us to change our timeline and direct our path.  The closer we follow God's direction, the closer we are to life.  The more obedient we are, the more responsibility we can handle.
Overcoming Affliction
The path of life is not easy.  The word "narrow" in Matthew 7:13-14 and Luke 13:23-25 is also translated troubled or afflicted.
Paul wrote that Jesus learned obedience by what he suffered and was made perfect.  Hebrews 5:7-10.  He also wrote that everyone who wants to live a godly life in Christ Jesus will suffer persecution.  2 Timothy 3:12.  But this was God's way of conforming us to the image of his Son.  Romans 8:20.
I cover this in more detail in Love & Trials.  http://www.goodgrainministry.com/hearing-god/forgotten-basics/love-and-trials/
It's not wise to seek affliction (Proverbs 22:3 – The prudent see danger and take refuge).
Rather, we overcome our challenges.
Revelation 3:21. He who overcomes, I will grant to him to sit down with Me on My throne, as I also overcame and sat down with My Father on His throne.
Relationship
Life is received from the Holy Spirit, and through God living in us.
Romans 8:11 He who raised Christ Jesus from the dead will also give life to your mortal bodies through His Spirit who dwells in you.
John 14:23-24 Jesus answered him, "If anyone loves me, he will keep my word, and my Father will love him, and we will come to him and make our home with him
Sonship & Responsibility
Relationship and obedience lead to responsibility.  There are different levels of responsibility.
John 15:15. I no longer call you servants, because a servant does not know his master's business. Instead, I have called you friends, for everything that I learned from my Father I have made known to you.
Zechariah 3:7. If you will walk in My ways and if you will perform My service, then you will also govern My house and also have charge of My courts, and I will grant you free access among these who are standing here.
Paul linked sonship to the redemption of our bodies.
Romans 8:23.  However, not only the creation, but we who have the first fruits of the Spirit also groan inwardly as we eagerly await our adoption, the redemption of our bodies.
Sonship provides our authority over the natural order of creation.  Romans 8:19-21.  Sonship is a position of great responsibility.
Mike Parsons describes these paths here:  https://freedomarc.blog/2017/03/22/224-called-according-to-his-purpose/
There is a process revealed here which leads to maturity, following the pathways of relationship and responsibility; a progression from the earthly (servant, bondservant, steward, friend) to engaging in the heavenly (lords, kings and sons).
See also https://freedomarc.blog/2016/08/09/revealing-the-sons-of-god/ (describing differences between slaves and sons).
Outside Time
If we can live from a future age, as discussed in the previous article, we can live in an age where death is abolished.
1 Corinthians 15:26 – The last enemy that will be abolished is death. See also Rev. 20:14
God himself is outside of time, and we can have him in us.  If ancients like Enoch could live out of a future time with Christ as his gateway to Heaven, then there is precedent for us to walk the same path.
Faith
The most basic key is faith.  You have to believe it's possible.  "Without faith it is impossible to please God, because anyone who comes to him must believe that he exists and that he rewards those who earnestly seek him."    Hebrews 11:6.
We receive according to our faith.  Matthew 9:29.
Articles like this share testimony that the path of life is real and it can be walked.  This is my testimony:  the path of life is real.  Even if we haven't achieved it yet, it can be done.
We want all the time we have because we want to be fully transformed into the image of Jesus and to bear fruit for his kingdom.  We are not all the same at the resurrection.  1 Corinthians 15:41-42 (comparing the resurrection of the dead to the differing light of sun, moon, and stars).
Enoch prophesied a righteous generation.  Jude 1:14-15.  The Bible says Jesus will stay in Heaven until his enemies are made his footstool.  Psalm 110:1; Hebrews 10:12-13.  This path will be walked.  As revelation knowledge has been released, people are pioneering the path now.
Diligence
Paul talked about his own path like running a race.  Hebrews 12:1-3; 1 Corinthians 9:24-27.  Over and over I see this in dreams.  Run the race.  Whatever time we have, use it for God.
Root Cause of Disobedience
In analyzing my own struggles to walk this path, I've learned to search for root causes of why I struggle in certain areas.  I had an encounter with Jesus once where he identified traumas that were hindering me.  It was years before I acquired the knowledge to heal them.  An excellent start is the material on cleansing gateways from Mike Parsons or Ian Clayton.
We all have a lot to clean off ourselves.  Trauma can lead to fear that causes us to make wrong choices.  Roots of inferiority or insecurity can lead us to engage in wrong trading.  For example fear can lead someone to telling lies or stealing.
A seer can also look back across our ancestry for generational sins that have been passed down, for which we need to repent of the sin, forgive the ancestor, and ask God to cleanse and redeem our bloodline.  Conventional theology misses this, but it is very important.
Again, I haven't walked this out yet.  But I'm pursuing it by desire.  I do make mistakes, but I try to correct them and keep moving.  God bless, and thank you for reading.