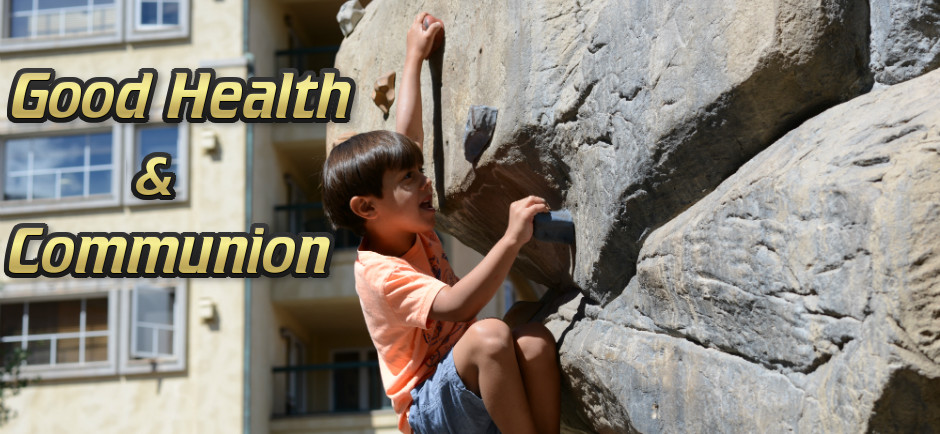 My Body is a Temple – Eat Right and Exercise
We often focus on spiritual things, but our body, soul and spirit are connected.  And so there are physical things we must do.   Recently, the Lord has been showing me the importance of good health.  Life may take its toll.  But we should still do our best to stay healthy.  First of all, it's wise to be in good health.  Second, our body is a temple of the Holy Spirit.
•  1 Corinthians 6:19-20.  Or do you not know that your body is a temple of the Holy Spirit within you, whom you have from God? You are not your own, for you were bought with a price. So glorify God in your body.
•  Romans 12:1.  I appeal to you therefore, brothers, by the mercies of God, to present your bodies as a living sacrifice, holy and acceptable to God, which is your spiritual worship.
•  1 Corinthians 3:17.  If anyone destroys God's temple, God will destroy him. For God's temple is holy, and you are that temple.
Treating our body like a temple means avoiding sexual immorality.
•  1 Corinthians 6:18.  Flee from sexual immorality. Every other sin a person commits is outside the body, but the sexually immoral person sins against his own body.
It also means staying in good health.  We often pray for healing.  But we need to be responsible caretakers of what God has given us, dedicating even what we eat and drink to God.
•  1 Corinthians 10:31.  So, whether you eat or drink, or whatever you do, do all to the glory of God.
•  Proverbs 23:19-21.  Hear, my son, and be wise, and direct your heart in the way. Be not among drunkards or among gluttonous eaters of meat, for the drunkard and the glutton will come to poverty, and slumber will clothe them with rags.
•  Proverbs 4:23.  Keep your heart with all vigilance, for from it flow the springs of life.       Proverbs 14:30. A tranquil heart gives life to the flesh, but envy makes the bones rot.  Proverbs 17:22. A joyful heart is good medicine, but a crushed spirit dries up the bones.
•  3 John 1:2.  Beloved, I pray that all may go well with you and that you may be in good health, as it goes well with your soul.
Exercise is wise – for both men and women.
•  Proverbs 24:5.  A wise man is full of strength, and a man of knowledge enhances his might.
•  Proverbs 31:17.  An excellent wife who can find?  She is far more precious than jewels. … She dresses herself with strength and makes her arms strong.
•  See also 1 Corinthians 9:27. But I discipline my body and keep it under control, lest after preaching to others I myself should be disqualified.
If we're living as Christians, we aren't living by the lust of the flesh.
•  Galatians 5:16-24.  But I say, walk by the Spirit, and you will not gratify the desires of the flesh.  For the desires of the flesh are against the Spirit, and the desires of the Spirit are against the flesh, for these are opposed to each other, to keep you from doing the things you want to do.  But if you are led by the Spirit, you are not under the law.  Now the works of the flesh are evident: sexual immorality, impurity, sensuality, idolatry, sorcery, enmity, strife, jealousy, fits of anger, rivalries, dissensions, divisions, envy, drunkenness, orgies, and things like these. I warn you, as I warned you before, that those who do such things will not inherit the kingdom of God.  But the fruit of the Spirit is love, joy, peace, patience, kindness, goodness, faithfulness, gentleness, self-control; against such things there is no law.  And those who belong to Christ Jesus have crucified the flesh with its passions and desires.
We should also live as an example to others, to give glory to God, just as Jesus lived as an example to us.
•  Matthew 5:16.  In the same way, let your light shine before others, so that they may see your good works and give glory to your Father who is in heaven.  See also 1 Peter 2:21; 1 Corinthians 11:1.
Additionally, in Leviticus 11, God gave the Jewish people dietary rules, now known as eating Kosher.  John Paul Jackson testifies that when he follows a Kosher diet, he has both better health and spiritual sensitivity.
Therefore, as part of our efforts to draw near to God, I humbly suggest eating healthy and exercising, in addition to not sinning against our own flesh.  I am working on this myself.
Communion Gives Life
Jesus testified that He is the bread of life, and we are to eat his flesh and drink his blood.  John 6:25-71.  Since this sounded like cannibalism, many followers left.  But then Jesus explained that it is the Spirit who gives life, the flesh is no help, and His words are spirit and life.   Later, at the Last Supper, Jesus instructed how to obey this command, by praying a blessing, breaking bread and drinking wine (likely unfermented grape juice).  Today, this is known as "Communion."
•  John 6:51-63.  I am the living bread that came down from heaven. If anyone eats of this bread, he will live forever. And the bread that I will give for the life of the world is my flesh. … For my flesh is true food, and my blood is true drink. Whoever feeds on my flesh and drinks my blood abides in me, and I in him. … It is the Spirit who gives life; the flesh is no help at all. The words that I have spoken to you are spirit and life.
•  Matthew 26:26-28.  Now as they were eating, Jesus took bread, and after blessing it broke it and gave it to the disciples, and said, "Take, eat; this is my body." And he took a cup, and when he had given thanks he gave it to them, saying, "Drink of it, all of you, for this is my blood of the covenant, which is poured out for many for the forgiveness of sins.
If we believe Jesus' teaching, then communion imparts to us Jesus' spiritual life through the bread and forgiveness of sins through the grape juice.  However, communion is known to affect physical health too.  I've heard testimony of people being healed through taking communion.  Paul dealt with a problem of people falling into bad health and death from taking communion without reverence.  And Jesus expressly said that anyone who eats of Him will live forever.
•  1 Corinthians 11:28-30.  Let a person examine himself, then, and so eat of the bread and drink of the cup. For anyone who eats and drinks without discerning the body eats and drinks judgment on himself. That is why many of you are weak and ill, and some have died.
•  Proverbs 18:14.  The spirit of a man will sustain his infirmity; but a wounded spirit who can bear?
Therefore, communion is good for both physical and spiritual health.
Since we're partaking in Jesus for our own benefit, we should take communion as often as possible – and daily with our family.  For example, the Lord's Prayer says, "Give us this day our daily bread."  If we feed our bodies daily, we should feed our spirits as well.  Further, we take communion in remembrance of Jesus.  1 Corinthians 11:23-26; Luke 22:19.  Jesus comes in our midst whenever we gather in His Name.  Matthew 18:20.  We ought to do so daily.  In the early church, Christians devoted themselves to the breaking of bread.  Acts 2:42.  And partaking in Jesus daily is consistent with being progressively transformed into His image.  2 Corinthians 3:18.
1 Corinthians 11:23-26.  For I received from the Lord what I also delivered to you, that the Lord Jesus on the night when he was betrayed took bread, and when he had given thanks, he broke it, and said, "This is my body which is for you. Do this in remembrance of me." In the same way also he took the cup, after supper, saying, "This cup is the new covenant in my blood. Do this, as often as you drink it, in remembrance of me." For as often as you eat this bread and drink the cup, you proclaim the Lord's death until he comes.
…
Erik
July 2013