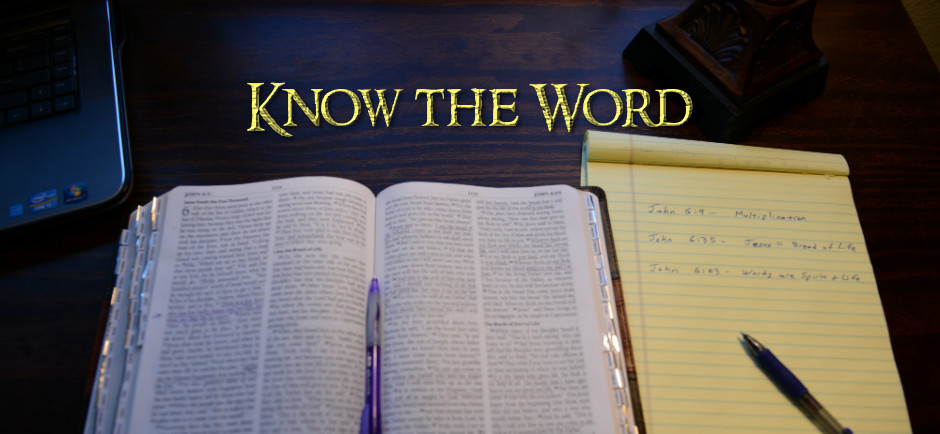 Getting to know the Lord starts with reading about Him.  Filling up your spirit with the Word is supremely important.  (See Importance of the Word).  The blessings extend far beyond gaining knowledge.
Blessings from Reading the Word
Scripture is God-breathed (2 Timothy 3:16-17), and Jesus Christ is called the Word of God.  John 1:1-2; Revelation 19:13.  Reading the scripture is a way to spend time with Him.  Scripture nourishes our spirit, like eating bread every day.  Matthew 4:4 ("Man shall not live on bread alone, but on every word that comes from the mouth of God"); John 6:25-70 ("I am the living bread that came down from heaven. Whoever eats this bread will live forever. … The words I have spoken to you—they are full of the Spirit and life."); Isaiah 55:10-11 ("As the rain and the snow come down from heaven, and do not return to it without watering the earth and making it bud and flourish, so that it yields seed for the sower and bread for the eater, so is my word that goes out from my mouth:  It will not return to me empty, but will accomplish what I desire and achieve the purpose for which I sent it.")
Feeding the Word to our spirit cleanses and transforms us.  John 15:3 ("You are already clean because of the word which I have spoken to you");  John 17:17 ("Sanctify them by Your truth. Your word is truth"); Hebrews 4:12 ("For the word of God is alive and active. Sharper than any double-edged sword, it penetrates even to dividing soul and spirit, joints and marrow; it judges the thoughts and attitudes of the heart."); Proverbs 23:7 ("For as he thinks in his heart, so is he"); Romans 12:2 ("be transformed by the renewing of your mind").
Feeding on the Word also builds faith.  Romans 10:17 ("So then faith cometh by hearing, and hearing by the word of God"). Faith pleases God and activates miracles.  Hebrews 11:6; Luke 17:6.
Moreover, God speaks to us through Bible verses because the Holy Spirit acts as a reminder of scripture.  John 14:21-26.  Scripture also keeps us from error (Matthew 22:29); protects us (Ephesians 6:10-20), improves our health (Proverbs 15:30) and empowers our prayers (Proverbs 28:9; John 15:7).
With these principles in mind, set your own reading schedule.  I suggest some combination of studying a topic and reading chronologically.  Whatever you choose, do it every day.
Here are some techniques:
Pray Before You Read
Scripture can have layers of meaning.  Psalm 12:6 (And the words of the Lord are flawless, like silver purified in a crucible, like gold refined seven times).  Therefore, pray for understanding in whatever way suits you best.  For example, we can pray for the Holy Spirit to reveal the deep meanings and purposes of God.  We can pray for wisdom or to help us remember.  We can also repent of unbelief, and pray for any veils to be lifted.  2 Corinthians 3:12-18.  I don't suggest a formula.  Rather, talk to God.
•  1 Corinthians 2:6-14.  … However, as it is written:  "What no eye has seen, what no ear has heard, and what no human mind has conceived" – the things God has prepared for those who love him – these are the things God has revealed to us by his Spirit. The Spirit searches all things, even the deep things of God. For who knows a person's thoughts except their own spirit within them? In the same way no one knows the thoughts of God except the Spirit of God. What we have received is not the spirit of the world, but the Spirit who is from God, so that we may understand what God has freely given us. This is what we speak, not in words taught us by human wisdom but in words taught by the Spirit, explaining spiritual realities with Spirit-taught words. The person without the Spirit does not accept the things that come from the Spirit of God but considers them foolishness, and cannot understand them because they are discerned only through the Spirit.
•  James 1:5. If any of you lacks wisdom, you should ask God, who gives generously to all without finding fault, and it will be given to you.
Since the Word is spiritually discerned, as we build our spirit, we should improve our understanding.
Study the Word
•  2 Timothy 2:15. Study to show thyself approved unto God, a workman that needeth not to be ashamed, rightly dividing the word of truth.
We need to do more than read stories from the Bible.  We need to build our knowledge base.  This is how the Holy Spirit speaks to us, acting as a reminder.  John 14:26.
Studying should be familiar.  We can memorize scriptures; underline important passages; read books and commentaries; etc.  In my grandmother's generation, memorizing scripture was much more common.  But even in today's world, the internet makes it very easy to search for teachings and to compare many translations at once.  If you really love the Bible, studying it is fun like a pastime.
As you read and study, pay attention to symbolism, colors and parables.  This helps build your dream vocabulary, for understanding how God speaks to us.  (See God Speaks in Dreams).
One important technique is to write things down.  Issues stand out more when you organize your thoughts.  And visual highlighting aids memory.  Deuteronomy 17:18-20 (The king "is to write for himself on a scroll a copy of this law … and he is to read it all the days of his life so that he may learn to revere the Lord his God and follow carefully all the words")
Original Hebrew and Greek
In the computer age, anyone can look up definitions in the original Hebrew and Greek.  Strong's Exhaustive Concordance is available free online.  For example, go to http://www.biblestudytools.com/concordances/strongs-exhaustive-concordance/ and you'll find a "Browse the Bible" Button that lets you choose any portion of the King James Bible.  Afterwards, check the box for "Strong's numbers" and you can click the words to read their definitions.
Talk About the Word
Sharing what we learn is a powerful reinforcement, and it brings unity.  I've often been blessed from other people's perspective.  Talking about the Lord edifies a family.  Jesus himself pays attention when we gather in His name.  And there are stories about people who experienced miraculous blessings when they talked together about Jesus.
•  Deuteronomy 6:6-9.  These commandments that I give you today are to be on your hearts. Impress them on your children. Talk about them when you sit at home and when you walk along the road, when you lie down and when you get up.
•  Matthew 5:19. Therefore anyone who sets aside one of the least of these commands and teaches others accordingly will be called least in the kingdom of heaven, but whoever practices and teaches these commands will be called great in the kingdom of heaven.
•  Matthew 18:20.  For where two or three gather in my name, there am I with them.
•  Luke 24:13-16.  Now behold, two of them were traveling that same day to a village called Emmaus … [a]nd they talked together of all these things which had happened.  So it was, while they conversed and reasoned, that Jesus Himself drew near and went with them.  But their eyes were restrained, so that they did not know Him.
•  Luke 24:33-36.  So they rose up that very hour and returned to Jerusalem, and found the eleven and those who were with them gathered together, saying, "The Lord is risen indeed, and has appeared to Simon!"  And they told about the things that had happened on the road, and how He was known to them in the breaking of bread.  Now as they said these things, Jesus Himself stood in the midst of them, and said to them, "Peace to you."
Meditate on the Word
To draw near to Jesus, we need to make his teachings a part of us.  Accordingly, we need to meditate on the Word, and make it our delight.  There are blessings for doing so.
•  John 14:21.  Whoever has my commands and keeps them is the one who loves me. The one who loves me will be loved by my Father, and I too will love them and show myself to them.
•  Joshua 1:8. Keep this Book of the Law always on your lips; meditate on it day and night, so that you may be careful to do everything written in it. Then you will be prosperous and successful.
•  Psalm 1:1-3. Blessed is the one who does not walk in step with the wicked or stand in the way that sinners take or sit in the company of mockers, but whose delight is in the law of the Lord, and who meditates on his law day and night. That person is like a tree planted by streams of water, which yields its fruit in season and whose leaf does not wither—whatever they do prospers.
When we have a problem, we take time to think about it and to consider solutions.  This is meditation.   Meditating the Word involves taking the time to really consider a section of text, to pray for understanding, and even to imagine the situation.  Further, meditating on the Word is meditating on Jesus, abiding in Him and feasting on his spirit.  (John 6:48 ("I am the bread of life."); John 15:7 ("If you abide in me, and my words abide in you, ask whatever you wish, and it will be done for you.")).
I've come across a few techniques for doing this.  One is to take a section of scripture, and read it over and over again while praying and waiting for revelation.
Another meditation technique is based on Psalm 19:14, which says "May these words of my mouth and this meditation of my heart be pleasing in your sight."  Accordingly, spend time pondering the Word, and then speak it out loud while focusing your mind on the Word.  Further, focus on being one with the spirit of Jesus, and take time to wait on the Lord, abiding in Him by faith.  (Galatians 2:20.  I have been crucified with Christ and I no longer live, but Christ lives in me. The life I now live in the body, I live by faith in the Son of God, who loved me and gave himself for me.)  See also Hebrews 10:19-22.
The Indian preacher Sadhu Sundar Selvaraj defines meditation, by combining Hebrew and Greek words, to mean "a reflection of deep thoughts by musing in the mind by speaking loudly to oneself."  He gives an example of taking a scripture verse and saying it over again, while keeping your mind focused on the words.  He suggests practicing daily, disciplining our mind to stay focused.  Selvaraj teaches a separate technique for waiting on the Lord by staying quiet and still, and being in a reverent position (i.e., not laying down in bed).  (Psalm 46:10 "Be still and know that I am God").  At first, he could only do this a few minutes at a time.  But doing it every day for a week, he could last 25 minutes.  Afterwards, Selvaraj testifies he had a breakthrough that was like opening a door.  Once you have a breakthrough in an area of prayer or meditation, you can then open that door as you need it.
…
Erik
July 2013