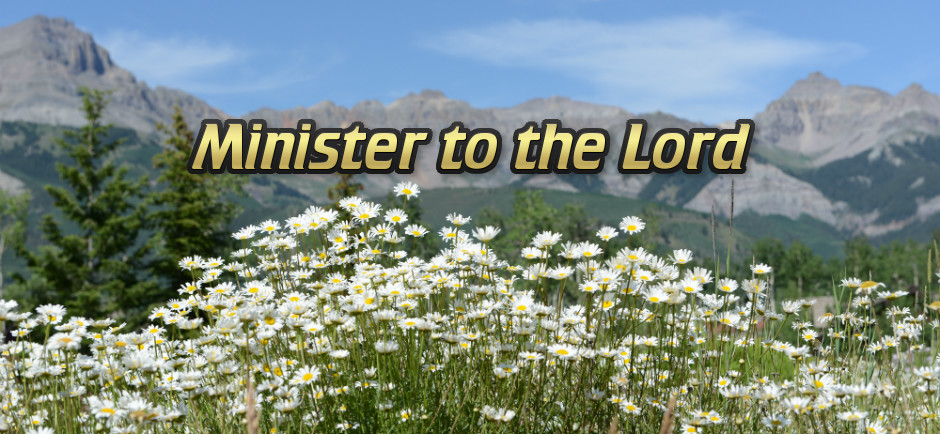 As they ministered to the Lord and fasted, the Holy Spirit said, "Now separate to Me Barnabas and Saul for the work to which I have called them." - Acts 13:2
Ministering to the Lord certainly includes Praise and Worship, but there's something more.  We are made in God's image, and made to fellowship with Him.  We are even called Sons of God and the Bride of Christ.  So if He seeks our fellowship, we can also minister to Him.
You Give in a Relationship
I think about it like a marriage.  If your only conversation is a list of complaints and needs, you don't have a good relationship.  Rather, you ask how the day went, you share ideas and plans, you compliment works and comfort hurts.  Sometimes, you just want to spend time together, or enjoy a shared experience.  A lot of times, you take care of your spouse's needs before attending to your own.  And when you do have to address your own needs, you bring it up in a respectful way.
We certainly have needs to pray about.  But, since we're seeking fellowship with God, we should take time to put those needs aside for a moment and minister to the Lord.  In fact, Jesus teaches that to have our prayers answered, we need to abide with Him.  John 15:7.
I believe God experiences emotions at a far deeper level than we do.  God analogizes people turning from Him as the pain a husband feels when his wife turns to prostitution or worse.  Hosea 3:1; Jeremiah 3.  Yet we live in a country today that has turned further from God than the ancient Jews ever did.  There is a lot to minister to the Lord about.
So how does one minister?  I use human relationships for my example.  Let God know He's loved and appreciated, especially for specific things He's done.  For example, no matter how bad things are, you can always thank Jesus for the cross.  (I had dream to do this very thing.)  You can thank God for his mercy and delays of judgment.  You can thank God for calling you.  You can tell Him how sorry you are that the people haven't appreciated His sacrifice and His blessings of prosperity, and you can acknowledge the hurt He must feel from their rejection.  You can let Him know that you appreciate that all His works are redemptive, even His judgments.  Isaiah 26:9.  And if you run out of topics, read the Psalms for more.
You can also spend time with God; time spent without asking anything of Him; time spent in fellowship, such as just focusing on Him and appreciating Him, or worshipping or waiting.  You can also spend time thanking Him for whatever good things exist in your life.
The Person Who Said Thanks
We like it when people say thanks.  Jesus made a special note of it when he healed ten lepers:
•  Luke 17:11-19.  Now on his way to Jerusalem, Jesus traveled along the border between Samaria and Galilee. As he was going into a village, ten men who had leprosy met him. They stood at a distance and called out in a loud voice, "Jesus, Master, have pity on us!" When he saw them, he said, "Go, show yourselves to the priests." And as they went, they were cleansed. One of them, when he saw he was healed, came back, praising God in a loud voice. He threw himself at Jesus' feet and thanked him—and he was a Samaritan. Jesus asked, "Were not all ten cleansed? Where are the other nine? Has no one returned to give praise to God except this foreigner?" Then he said to him, "Rise and go; your faith has made you well."
After I wrote all this, a friend of ours told us about a recent encounter she had with the Lord.  He mentioned how when he healed the ten lepers, only one had thanked Him.  But He also pointed out that He did far more than this.   He shed his blood for the whole world.  Yet people don't want it.
Isaiah 53 shows some of what Jesus suffered on Earth: "he had no form or majesty that we should look at him, and no beauty that we should desire him. He was despised and rejected by men; a man of sorrows, and acquainted with grief; and as one from whom men hide their faces he was despised, and we esteemed him not. Surely he has borne our griefs and carried our sorrows; yet we esteemed him stricken, smitten by God, and afflicted. But he was pierced for our transgressions; he was crushed for our iniquities; upon him was the chastisement that brought us peace, and with his wounds we are healed."
Psalm 22 captures some of Jesus' feelings on the cross:  "But I am a worm and not a man, scorned by mankind and despised by the people. All who see me mock me; they make mouths at me; they wag their heads … I am poured out like water, and all my bones are out of joint; my heart is like wax; it is melted within my breast; my strength is dried up like a potsherd, and my tongue sticks to my jaws; you lay me in the dust of death. For dogs encompass me; a company of evildoers encircles me; they have pierced my hands and feet – I can count all my bones – they stare and gloat over me; they divide my garments among them, and for my clothing they cast lots…."  See also Isaiah 52:14 (his appearance was so marred, beyond human semblance).
Our world's rejection of Jesus is incredibly tragic.  The Lord Jesus relinquished His position in Heaven and became a human on earth.  He taught how to serve God.  He suffered and died, so that all can be healed and saved.  Then He rose again and ministered more.  And even after He ascended, He sent the Holy Spirit back to guide us.
Before Jesus broke the curse, the world was under the authority of Satan, taken from Adam.  It is believed that even after death, righteous people could not go to Heaven.  (Psalm 16:10; Luke 16:19-31).  Jesus' work enables us to be set free from the captivity of sin.  Forgiveness is widely available.  Redeemed man can approach the very throne of God through the blood of Jesus.  Hebrews 4:14-16.  In fact, we are redeemed to the extent that Jesus lives within us and we are called children of God.  Galations 2:20; 1 John 3:1.  Yet our society has rejected these gifts, rejected the work of Jesus, and despised the sacrifice that was made for us.  Even in many churches, there is complacency and denial of the power of God.  2 Timothy 3:1-9.
Who of us would tolerate such rejection?  And even if we did, it would be painful.  So when we minister to the Lord, we need to let Jesus know that we appreciate what He did for us, and we need to show it with our actions.  Praise be to Jesus Christ our Lord!
(For further study, Neville Johnson has a great teaching on Ministering to the Lord, also linked on the Resources page.)
…
Erik
July 2013