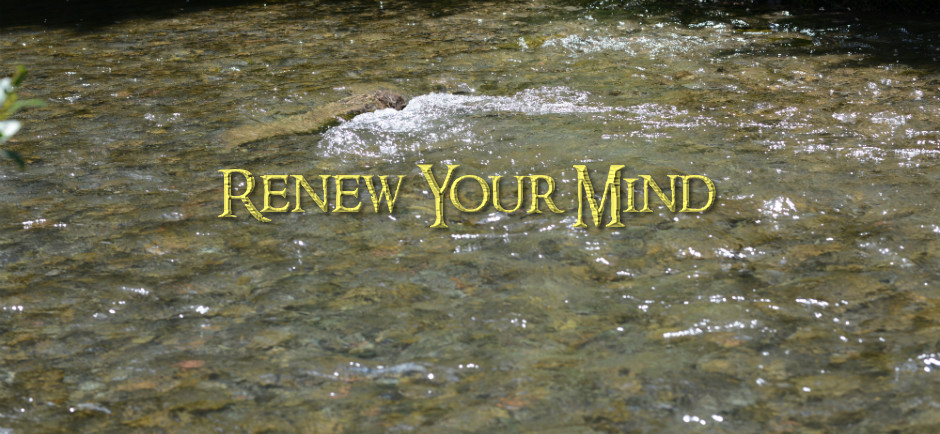 Be Transformed by the Renewing of Your Mind
To hear God, we have to transform our minds.  Otherwise, we may not perceive heavenly things.
•  John 12:27-30. "Now is my soul troubled. And what shall I say? 'Father, save me from this hour'? But for this purpose I have come to this hour. Father, glorify your name." Then a voice came from heaven: "I have glorified it, and I will glorify it again." The crowd that stood there and heard it said that it had thundered. Others said, "An angel has spoken to him." Jesus answered, "This voice has come for your sake, not mine.
Similarly, I saw a dream about removing "noise" in my life to hear God:
•  In my dream I was once again wrestling with a large snake, holding its head so it couldn't bite me.  (I'd often had dreams about my legal career as snake wrangling.) Then the Lord appeared (I couldn't tell what He looked like, but I knew instinctively it was Him) and began answering every question I ever had and explaining why I had thus far failed to break free.  However, there was too much noise around me, and I couldn't hear Him.  So I interrupted and said, "I can't hear you."  But He gave me a knowing look while shrugging his shoulders, and then kept talking.
Paul writes about doing more:
•  Romans 12:2. Do not be conformed to this world, but be transformed by the renewal of your mind, that by testing you may discern what is the will of God, what is good and acceptable and perfect.
Paul transformed himself enough to testify, "It is no longer I who live, but Christ who lives in me."  Galatians 2:20.
Because Moses spent time in God's presence, his entire face was shining with God's glory and he had to wear a veil.  Exodus 34:29-35.  We can have even greater glory than Moses, because we have Christ living in us, and we can go through a process to be increasingly transformed into Christ's glory.
•  2 Corinthians 3:18. But we all, with unveiled face, beholding as in a mirror the glory of the Lord, are being transformed into the same image from glory to glory, just as from the Lord, the Spirit.
•  Philippians 3:12-14.  Not that I have already obtained this or am already perfect, but I press on to make it my own, because Christ Jesus has made me his own. Brothers, I do not consider that I have made it my own. But one thing I do: forgetting what lies behind and straining forward to what lies ahead, I press on toward the goal for the prize of the upward call of God in Christ Jesus.  (See also 1 Corinthians 9:24-27).
Jesus showed his transfigured glory on Earth.
•  Matthew 17:1-3.  And after six days Jesus took with him Peter and James, and John his brother, and led them up a high mountain by themselves. And he was transfigured before them, and his face shone like the sun, and his clothes became white as light. And behold, there appeared to them Moses and Elijah, talking with him.
God's original purpose for us is to be transformed into the image of Jesus.
•  Romans 8:29.  For those whom he foreknew he also predestined to be conformed to the image of his Son, in order that he might be the firstborn among many brothers.
And Jesus said we can do even greater things with Him living in us.
•  John 14:12-14.  Truly, truly, I say to you, whoever believes in me will also do the works that I do; and greater works than these will he do, because I am going to the Father.  Whatever you ask in my name, this I will do, that the Father may be glorified in the Son.  If you ask anything in my name, I will do it.
Moses achieved much of this transformation even before the crucifixion.  At the dawn of human history, Enoch walked with God, and apparently transformed himself enough to be caught up to Heaven.  Genesis 5:21-24.  Elijah also did not die. 2 Kings 2:11. And now we have the Bible's instructions that we should transform ourselves even more than they did.
Even if we don't achieve perfection, there are still powerful protections for those who abide in the Lord.  (Psalm 91; John 15:7).  And the Bible promises rewards for good and faithful servants. See Luke 19:11-27 (Well done, my good servant! … Because you have been trustworthy in a very small matter, take charge of ten cities); Matthew 6:19-21 (lay up for yourselves treasures in heaven)).  What we do on Earth determines our position afterwards, and eternity is a long time to carry this testimony.
Note:  Neville Johnson teaches that, in the end times, a group of people will indeed transform themselves and overcome the last enemy – death.  (See This Generation Series, part 2; see also Seed of the Woman series, parts 1-4).
There are prophecies in Psalms about a righteous "generation" that serves Christ, which are echoed in Revelation.
•  Psalm 22:30.  A seed shall serve him; it shall be accounted to the Lord for a generation.
•  Psalm 24:3-6.  Who shall ascend into the hill of the Lord? or who shall stand in his holy place?  He that hath clean hands, and a pure heart; who hath not lifted up his soul unto vanity, nor sworn deceitfully.  He shall receive the blessing from the Lord, and righteousness from the God of his salvation.  This is the generation of them that seek him, that seek thy face, O Jacob. Selah.
•  Psalm 78:1-8.  Give ear, O my people, to my law: incline your ears to the words of my mouth.  I will open my mouth in a parable: I will utter dark sayings of old: Which we have heard and known, and our fathers have told us.  We will not hide them from their children, shewing to the generation to come the praises of the Lord, and his strength, and his wonderful works that he hath done.  For he established a testimony in Jacob, and appointed a law in Israel, which he commanded our fathers, that they should make them known to their children:  That the generation to come might know them, even the children which should be born; who should arise and declare them to their children:  That they might set their hope in God, and not forget the works of God, but keep his commandments:  And might not be as their fathers, a stubborn and rebellious generation; a generation that set not their heart aright, and whose spirit was not stedfast with God.
•  Psalm 102:16-18.  When the Lord shall build up Zion, he shall appear in his glory.  He will regard the prayer of the destitute, and not despise their prayer.  This shall be written for the generation to come:  and the people which shall be created shall praise the LORD.
•  Psalm 112:1-2.  Praise ye the Lord. Blessed is the man that feareth the Lord, that delighteth greatly in his commandments.  His seed shall be mighty upon earth:  the generation of the upright shall be blessed.
•  Revelation 19:7-8.  Let us be glad and rejoice and give Him glory, for the marriage of the Lamb has come, and His wife has made herself ready.  And to her it was granted to be arrayed in fine linen, clean and bright, for the fine linen is the righteous acts of the saints.
The idea of a final, righteous generation is most clearly referenced in the Book of Enoch.  Enoch isn't part of our Bible, but it was read at the time of Christ, and 1 Enoch 1.9 is apparently quoted by the Lord's brother in Jude 1:14-15.  However, Enoch was left out of scriptural canon in the West and was then lost for many centuries.  In 1773, copies of Enoch were brought back from the church in Ethiopia (see Acts 8:26-40), and the first English edition was published in 1821.  I link below to a 1906 translation of an Ethiopian text.  There are actually five books attributed to Enoch.  And like the early church, who left them out, we're still not sure about them.  But I find them interesting to consider, especially where there are prophecies supported by the Bible:
•  The first book of Enoch is addressed to a remote generation.  1 Enoch, Ch. 1.1-2.  The words of the blessing of Enoch, wherewith he blessed the elect and righteous, who will be living in the day of tribulation, when all the wicked and godless are to be removed. And he took up his parable and said -Enoch a righteous man, whose eyes were opened by God, saw the vision of the Holy One in the heavens, which the angels showed me, and from them I heard everything, and from them I understood as I saw, but not for this generation, but for a remote one which is for to come.
•  5 Enoch, Ch. 106.17-107.2  [F]or I know the mysteries of the holy ones; for He, the Lord, has showed me and informed me, and I have read (them) in the heavenly tablets. And I saw written on them that generation upon generation shall transgress, till a generation of righteousness arises, and transgression is destroyed and sin passes away from the earth, and all manner of good comes upon it.
Ways to Transform Our Minds
We have this one chance to transform ourselves on Earth, before we enter the afterlife or the Millennial Kingdom.  The Bible gives some techniques to do that.
Basics
First, there are some basics.  You must be saved, having repented of sin and made Jesus your Lord; and you must be baptized under water, releasing power to resist sin in compliance with Jesus' commands.  (See Go Beyond Salvation and Baptism is Critical).  I also suggest seeking baptism in the Spirit.  (See Spirit Baptism in Prayer & Travail).
Another basic is that we have to walk in obedience.  John 14:15 (If you love me, you will keep my commandments); 1 Peter 1:13-16 (Be Holy, because I am Holy); Ephesians 6:10-20 (Put on the whole armor of God).
Set Priorities
Next, I believe we have to set the right focus and priorities.  If Jesus is our priority, we will spend our time on Him.
•  Ephesians 5:16.  Redeeming the time, because the days are evil.
•  2 Timothy 2:4. No soldier gets entangled in civilian pursuits, since his aim is to please the one who enlisted him.
•  Parable of the Sower. Matthew 13:22.  As for what was sown among thorns, this is the one who hears the word, but the cares of the world and the deceitfulness of riches choke the word, and it proves unfruitful.
Focus on Heavenly Things
Further, the Bible gives techniques to focus our thoughts on heavenly things.  What we think affects who we are.  (Proverbs 23:7).  This is why filling up our spirits and minds with the Word is so important.  (See Know the Word and Importance of the Word).
•  2 Corinthians 10:3-5.  For though we walk in the flesh, we are not waging war according to the flesh.  For the weapons of our warfare are not of the flesh but have divine power to destroy strongholds.  We destroy arguments and every lofty opinion raised against the knowledge of God, and take every thought captive to obey Christ, being ready to punish every disobedience, when your obedience is complete.
•  Philippians 4:8.  [W]hatever is true, whatever is honorable, whatever is just, whatever is pure, whatever is lovely, whatever is commendable, if there is any excellence, if there is anything worthy of praise, think about these things.  [This provides a filter for both our thoughts and emotions.]
•  Ephesians 4:26-27.  In your anger do not sin: Do not let the sun go down while you are still angry, and do not give the devil a foothold.
And there are attributes we should have, that help focus our minds on positive things.
•  Galatians 5:22-23. But the fruit of the Spirit is love, joy, peace, patience, kindness, goodness, faithfulness, gentleness, self-control; against such things there is no law.
•  2 Peter 1:3-8. [M]ake every effort to supplement your faith with virtue, and virtue with knowledge, and knowledge with self-control, and self-control with steadfastness, and steadfastness with godliness, and godliness with brotherly affection, and brotherly affection with love.  For if these qualities are yours and are increasing, they keep you from being ineffective or unfruitful in the knowledge of our Lord Jesus Christ.
Practically, we should set our mind and emotions on God in the morning and at night before bed.  We can also decide to have a positive mood in all circumstances.  The disciples adopted a mood of Thanksgiving, even under the worst circumstances.  I've heard that thanksgiving can open a channel of supply.  (See also Love and Trials).  These principles are illustrated by Paul and Silas who, despite being eaten and jailed, praised God in prison and then miraculously converted the jailer to Christianity.
•  Acts 16:16-40.  The crowd joined in attacking them, and the magistrates tore the garments off them and gave orders to beat them with rods.  And when they had inflicted many blows upon them, they threw them into prison, ordering the jailer to keep them safely. Having received this order, he put them into the inner prison and fastened their feet in the stocks. About midnight Paul and Silas were praying and singing hymns to God, and the prisoners were listening to them, and suddenly there was a great earthquake, so that the foundations of the prison were shaken. And immediately all the doors were opened, and everyone's bonds were unfastened.  When the jailer woke and saw that the prison doors were open, he drew his sword and was about to kill himself, supposing that the prisoners had escaped.  But Paul cried with a loud voice, "Do not harm yourself, for we are all here."  And the jailer called for lights and rushed in, and trembling with fear he fell down before Paul and Silas.  Then he brought them out and said, "Sirs, what must I do to be saved?"
•  1 Thessalonians 5:16-18. Rejoice always, pray without ceasing, give thanks in all circumstances; for this is the will of God in Christ Jesus for you.
•  James 1:2-3. Count it all joy, my brothers, when you meet trials of various kinds, for you know that the testing of your faith produces steadfastness.  And let steadfastness have its full effect, that you may be perfect and complete, lacking in nothing.
•  Romans 5:2-5. [W]e rejoice in hope of the glory of God.  Not only that, but we rejoice in our sufferings, knowing that suffering produces endurance, and endurance produces character, and character produces hope, and hope does not put us to shame, because God's love has been poured into our hearts through the Holy Spirit who has been given to us.
•  1 Peter 5:7.  [Cast] all your anxieties on him, because he cares for you.
Control What We See and Hear (all sensory input)
We also have to control what we allow to enter our minds.  Our eyes and ears are gateways to our minds and hearts.  We need to seriously police what we watch.
•  Matthew 6:22-23.  The eye is the lamp of the body. So, if your eye is healthy, your whole body will be full of light, but if your eye is bad, your whole body will be full of darkness. If then the light in you is darkness, how great is the darkness!
•  I described a dream above, where I couldn't hear God because of noise in my life.  I also have a friend that had to give up watching political arguments.
Accordingly, we need to take time to be still and Wait on the Lord.
•  Psalm 46:10.  Be still, and know that I am God. I will be exalted among the nations, I will be exalted in the earth!
•  Isaiah 30:15-18. For thus said the Lord God, the Holy One of Israel, "In returning and rest you shall be saved; in quietness and in trust shall be your strength." But you were unwilling … Therefore the Lord waits to be gracious to you, and therefore he exalts himself to show mercy to you. For the Lord is a God of justice; blessed are all those who wait for him.
Control What We Say
Additionally, we need to control what leaves our mouth.
•  1 Peter 3:10. Whoever desires to love life and see good days, let him keep his tongue from evil and his lips from speaking deceit
•  James 3:1-12.  And if anyone does not stumble in what he says, he is a perfect man, able also to bridle his whole body. … [T]he tongue is a small member, yet it boasts of great things. … It is a restless evil, full of deadly poison.  With it we bless our Lord and Father, and with it we curse people who are made in the likeness of God.  From the same mouth come blessing and cursing.  My brothers, these things ought not to be so.
•  Luke 6:45.  The good person out of the good treasure of his heart produces good, and the evil person out of his evil treasure produces evil, for out of the abundance of the heart his mouth speaks.
Keep Building Up
And we have to keep doing these things.
•  Hebrews 5:14.  But solid food is for the mature, for those who have their powers of discernment trained by constant practice to distinguish good from evil.
Next, Good Health and Communion
…
Erik
July 2013