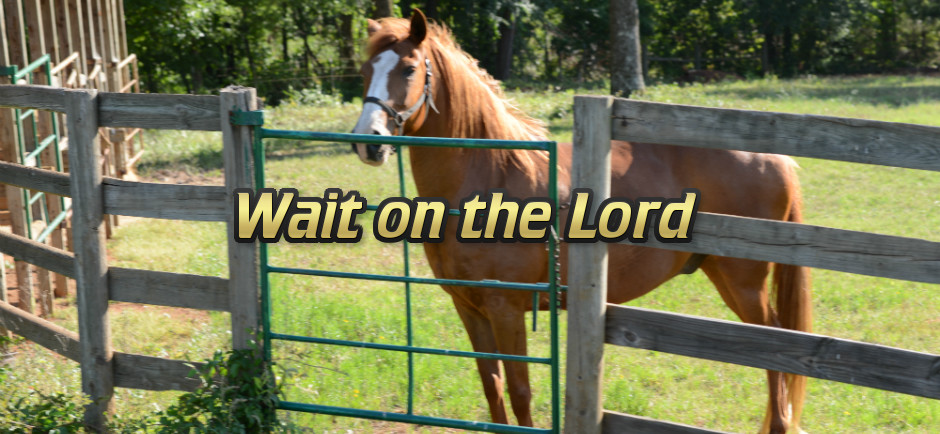 Even the youths shall faint and be weary, and the young men shall utterly fall: But they that wait upon the Lord shall renew their strength; they shall mount up with wings as eagles; they shall run, and not be weary; and they shall walk, and not faint. - Isaiah 40:30-31.
Beyond Worship and Prayer, there is Waiting on the Lord.  Earnestly waiting in silence and stillness in God's presence is a powerful technique that's spoken of throughout the Bible.
•  Psalm 27:13-15.  I believe that I shall look upon the goodness of the Lord in the land of the living! Wait for the Lord; be strong, and let your heart take courage; wait for the Lord!
•  Psalm 37:34. Wait for the Lord and keep his way, and he will exalt you to inherit the land; you will look on when the wicked are cut off.
•  Psalm 46:10.  Be still, and know that I am God. I will be exalted among the nations, I will be exalted in the earth!
•  Psalm 62:1. For God alone my soul waits in silence; from him comes my salvation.
•  Psalm 130:5-6. I wait for the Lord, my soul waits, and in his word I hope; my soul waits for the Lord more than watchmen for the morning, more than watchmen for the morning.
•  Isaiah 30:15-18. For thus said the Lord God, the Holy One of Israel, "In returning and rest you shall be saved; in quietness and in trust shall be your strength." But you were unwilling … Therefore the Lord waits to be gracious to you, and therefore he exalts himself to show mercy to you. For the Lord is a God of justice; blessed are all those who wait for him.
•  Isaiah 64:4. For since the beginning of the world men have not heard, nor perceived by the ear, neither hath the eye seen, O God, beside thee, what he hath prepared for him that waiteth for him.  See also 1 Corinthians 2:9-10.
•  Lamentations 3:25-26.  The Lord is good to those who wait for him, to the soul who seeks him. It is good that one should wait quietly for the salvation of the Lord.
•  Micah 7:7. But as for me, I will look to the Lord; I will wait for the God of my salvation; my God will hear me.
While we wait, we need to train our minds to be quiet and still, instead of letting our minds wander.  I've heard one technique is simply to focus on being one with Jesus, in faith.  Galations 2:20; Proverbs 23:7.
Answer to Prayer
In practice, we can wait on the Lord for an answer to prayer.  Often we pray, but don't get any answer because we don't wait to receive one.  See John 15:7 ("If you abide in me, and my words abide in you, ask whatever you wish, and it will be done for you." — Waiting is a form of abiding).
This is what the prophet Habakkuk did, stationing himself to watch until an answer came.
•  Habakkuk 2:1.  I will stand upon my watch, and set me upon the tower, and will watch to see what he will say unto me, and what I shall answer when I am reproved.
Miraculous Blessings
But there's still more.  Scripture talks about incredible blessings for those who make a habit of waiting on the Lord.
•  Isaiah 40:31.  But they that wait upon the Lord shall renew their strength; they shall mount up with wings as eagles; they shall run, and not be weary; and they shall walk, and not faint.
Mounting up with wings like eagles sounds like a spiritual experience.  As for renewing our strength, I've heard testimony that waiting on the Lord can energize you and repair damage in your body; a real physical miracle.
•  Luke 12:35-37.  Let your waist be girded and your lamps burning; and you yourselves be like men who wait for their master, when he will return from the wedding, that when he comes and knocks they may open to him immediately.  Blessed are those servants whom the master, when he comes, will find watching.  Assuredly, I say to you that he will gird himself and have them sit down to eat, and will come and serve them.
Sometimes Jesus knocks on the door of our hearts.  Revelation 3:20. ("Behold, I stand at the door and knock.  If anyone hears my voice and opens the door, I will come in to him and eat with him, and he with me.")  We have a sudden urge to pray or to praise God.  A worship song plays in our head.  It sounds like someone called our name when we were sleeping, but no one is there.  We should recognize these times, and open the door to Him.  Simply stop what you're doing and fellowship with Jesus.  
Wisdom and Understanding
Waiting techniques can also be applied to seeking Wisdom and Understanding.
•  Proverbs 8.  Does not wisdom cry out, and understanding lift up her voice?  She takes her stand on the top of the high hill, beside the way, where the paths meet.  She cries out by the gates, at the entry of the city, at the entrance of the doors:  "To you, O men, I call, and my voice is to the sons of men.  O you simple ones, understand prudence, and you fools, be of an understanding heart.  Listen, for I will speak of excellent things …. Blessed is the man who listens to me, watching daily at my gates, waiting at the posts of my doors.  For whoever finds me finds life, and obtains favor from the Lord;
Personal Experience
Before writing about Waiting on the Lord, I wanted to try it.  The opportunity came from dreams.  While researching this topic, I saw a dream where there were small thin snakes, and I took an old rusty farm tool and hit them hard enough to kill them.  Then a large snake came out, and although I hit it, it was too big to kill with an old rusty tool, and then we had to fight.
I was deeply disturbed by this dream, and so I went straight to my research.  I secluded myself that day and spent time in praise, worship, reading the word, and prayer; and then I waited on the Lord, in faith, believing his Word.
I didn't hear anything or have any moments of inspiration.  But I did feel energized.  And that night I had a much better dream.  In the next dream, I was hitting baseballs with computer-like precision, and I had three sharp blades on each hand like the superhero Wolverine.  Then I felt something invisible, like a snake.  But having no fear, I grabbed it, sliced it up with my Wolverine claws, and then saw clearly that it was a tentacle.  I looked around and saw tentacles all around the room, but they were no match for the razor sharp claws.
I may not fully appreciate whatever was happening in the Spirit world.  But whatever it was, these techniques worked.
…
Erik
July 2013