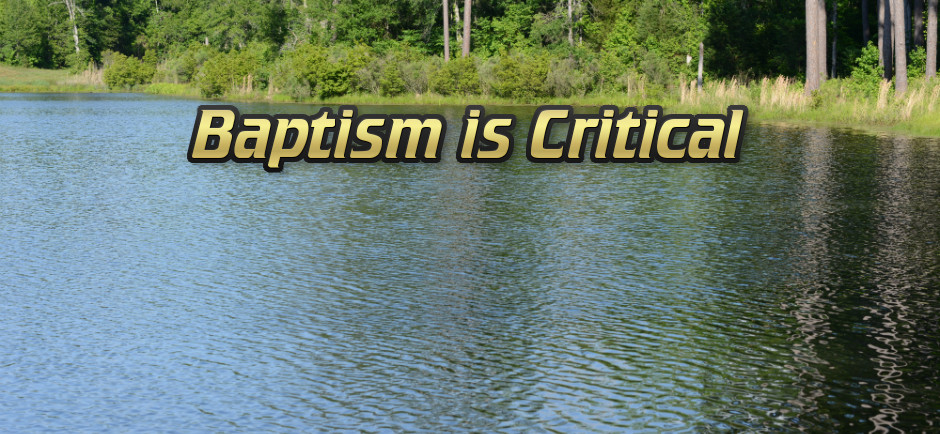 Summary:  Everyone needs to be baptized under water as an adult, thus releasing power to resist sin and to comply with Jesus' commands.  Even if you've done it as a kid or baby, do it again.  There is a real spiritual effect.  It's not just symbolic.
The importance of water baptism is so infrequently taught that I think most churches don't understand it.  (I didn't for many years.)  Baptism is usually presented as a symbolic statement – an outward profession of our faith – and something that Jesus did.  Moreover, a lot of us were baptized as babies and grew up in one church or another, and no one ever told us that we needed something more.  (My wife and I were both baptized Catholic as infants.)  Then, due to our lack of knowledge, we place our own traditions above the clear teaching of the Bible (demonstrating unbelief and disobedience).  Water baptism is critical to our spiritual development, and in fact releases power over us to walk in Christ.
Jesus Commanded Baptism
Jesus commanded baptism, after His resurrection, in what's known as the Great Commission:
•  Matthew 28:18-20.  And Jesus came and spake unto them, saying, All power is given unto me in heaven and in earth.  Go ye therefore, and teach all nations, baptizing them in the name of the Father, and of the Son, and of the Holy Ghost: Teaching them to observe all things whatsoever I have commanded you: and, lo, I am with you always, even unto the end of the world. Amen.
•  Mark 16:16.  And he said unto them, Go ye into all the world, and preach the gospel to every creature. He that believeth and is baptized shall be saved; but he that believeth not shall be damned. And these signs shall follow them that believe; In my name shall they cast out devils; they shall speak with new tongues; They shall take up serpents; and if they drink any deadly thing, it shall not hurt them; they shall lay hands on the sick, and they shall recover.  So then after the Lord had spoken unto them, he was received up into heaven, and sat on the right hand of God.
Obedience to Jesus' commands is required to fellowship with Jesus/God:
•  See, e.g., John 14:15.  If you love me, you will keep my commandments.
Water baptism is for repentence of sins:
•  Matthew 3:11-12.  John the Baptist:  "I baptize you with water for repentance, but he who is coming after me is mightier than I, whose sandals I am not worthy to carry. He will baptize you with the Holy Spirit and fire. His winnowing fork is in his hand, and he will clear his threshing floor and gather his wheat into the barn, but the chaff he will burn with unquenchable fire."
•  Mark 1:4-5.  John appeared, baptizing in the wilderness and proclaiming a baptism of repentance for the forgiveness of sins. And all the country of Judea and all Jerusalem were going out to him and were being baptized by him in the river Jordan, confessing their sins.
•  Acts 2:37-38.  Now when they heard this they were cut to the heart, and said to Peter and the rest of the apostles, "Brothers, what shall we do?" And Peter said to them, "Repent and be baptized every one of you in the name of Jesus Christ for the forgiveness of your sins, and you will receive the gift of the Holy Spirit.
•  Jesus also preached repentance and baptism:  Matthew 4:17.  From that time Jesus began to preach, and to say, Repent: for the kingdom of heaven is at hand.  John 4:1-2.  … Jesus was making and baptizing more disciples than John (although Jesus himself did not baptize, but only his disciples)
Adults need to repent of sins:
•  Romans 3:23.  For all have sinned, and come short of the glory of God.
•  1 John 1:8.  If we say that we have no sin, we deceive ourselves, and the truth is not in us.
•  Luke 13:3 & 5.  but unless you repent, you will all likewise perish.  See also Luke 13:23-30 (Strive to enter through the narrow door).
•  Matthew 7:21-27.  Not everyone who says to me, 'Lord, Lord,' will enter the kingdom of heaven, but the one who does the will of my Father who is in heaven.  See also James 1:22. Do not merely listen to the word, and so deceive yourselves. Do what it says.
Jesus set the example of how to live our lives (1 John 2:6).  And Jesus was baptized under water as an adult at about age 30 (Luke 3:23), the age of maturity.  Even though he was without sin, at that moment, power was released over Him by the Holy Spirit:
•  Matthew 3:13-17.  Then Jesus came from Galilee to the Jordan to John, to be baptized by him. John would have prevented him, saying, "I need to be baptized by you, and do you come to me?" But Jesus answered him, "Let it be so now, for thus it is fitting for us to fulfill all righteousness." Then he consented. And when Jesus was baptized, immediately he went up from the water, and behold, the heavens were opened to him, and he saw the Spirit of God descending like a dove and coming to rest on him; and behold, a voice from heaven said, "This is my beloved Son,with whom I am well pleased."
Even if you've spent your whole life going to church and being a Christian, when you are ready to seek God then start off with Baptism.  It is commanded, it is real, and it does work.
There's a problem in the churches with putting our traditions above the clear commands of God.  Personally, I have nothing against dedicating or baptizing babies (
Luke 2:22
).  But those traditions don't make it OK to ignore the commands, teachings and example of Jesus.  Jesus taught water baptism for repentence of sins, and He demonstrated it as an adult.  It's common sense that adults need repentance, and thus baptism.  Ignorance doesn't get us very far into the Kingdom of God.
•  Hosea 4:6.  My people are destroyed for lack of knowledge: because thou hast rejected knowledge, I will also reject thee, that thou shalt be no priest to me: seeing thou hast forgotten the law of thy God, I will also forget thy children.
•  Joshua 1:8.  This book of the law shall not depart out of thy mouth; but thou shalt meditate therein day and night, that thou mayest observe to do according to all that is written therein: for then thou shalt make thy way prosperous, and then thou shalt have good success.  See also Psalm 1:2.
•  Acts 3:22-23.  For Moses truly said unto the fathers, A prophet shall the Lord your God raise up unto you of your brethren, like unto me; him shall ye hear in all things whatsoever he shall say unto you.  And it shall come to pass, that every soul, which will not hear that prophet, shall be destroyed from among the people. 
Deeper Understanding of Baptism
Power to Resist Sin
Water baptism has a real spiritual effect that changes lives.  Specifically, water baptism buries the old nature of sin, thus giving you the power to resist sin and walk in Christ.  Paul explained it like this:
•  Romans 6:1-4.  What shall we say then? Are we to continue in sin that grace may abound? By no means! How can we who died to sin still live in it? Do you not know that all of us who have been baptized into Christ Jesus were baptized into his death? We were buried therefore with him by baptism into death, in order that, just as Christ was raised from the dead by the glory of the Father, we too might walk in newness of life.
•  Galations 3:27.  For as many of you as have been baptized into Christ have put on Christ.
•  Colossians 2:6-12.  Therefore, as you received Christ Jesus the Lord, so walk in him, rooted and built up in him and established in the faith, just as you were taught, abounding in thanksgiving.  See to it that no one takes you captive by philosophy and empty deceit, according to human tradition, according to the elemental spiritsof the world, and not according to Christ. For in him the whole fullness of deity dwells bodily, and you have been filled in him, who is the head of all rule and authority.  In him also you were circumcised with a circumcision made without hands, by putting off the body of the flesh, by the circumcision of Christ, having been buried with him in baptism, in which you were also raised with him through faith in the powerful working of God, who raised him from the dead.
I have heard more than one missionary testify about this from their work in the fields.  Where people commit to Jesus and do not also get baptized, large portions do not continue following Jesus.  (Neville Johnson estimates ~90%.)  People need to be baptized to bury the old nature in water (as Paul explains) so that the old nature of sin no longer has power and authority.  Sinning then becomes a choice that can be resisted.  (James 4:7.)
Paul experienced the spiritual effect of baptism himself, as declared by Ananias:
•  Acts 22:16.  And now why do you wait? Rise and be baptized and wash away your sins, calling on his name.
And even Jesus received the power of baptism before facing the temptations of the devil.
•  Matthew 3:13-4:11.  When He had been baptized, Jesus came up immediately from the water; and behold, the heavens were opened to Him, and He saw the Spirit of God descending like a dove and alighting upon Him.  And suddenly a voice came from heaven, saying, "This is My beloved Son, in whom I am well pleased."  Then Jesus was led up by the Spirit into the wilderness to be tempted by the devil.
See the Kingdom
One of the criminals crucified with Jesus went to Paradise without a separate event of water baptism.  Luke 23:32-43.  People can also be baptized in the Holy Spirit first, as Peter found out.  Acts 10:1-11:18.  However, Peter baptized these people with water afterwards, in the name of Jesus Christ (vs. 48).  There is good reason why.
Baptism allows us to advance into the Kingdom of God.  As discussed here in Go Beyond Salvation, we are meant to advance beyond just the salvation experience and to do works for God.  There are rewards in Heaven, which will not all be the same.  Water baptism is a doorway that must be entered through, into the Kingdom of God.  This doorway allows you to "see" the kingdom and have Christ revealed to you more fully.
•  Here is what Jesus taught on being born again:  John 3:3-6.  Jesus answered him, "Truly, truly, I say to you, unless one is born again he cannot see the kingdom of God." Nicodemus said to him, "How can a man be born when he is old? Can he enter a second time into his mother's womb and be born?" Jesus answered, "Truly, truly, I say to you, unless one is born of water and the Spirit, he cannot enter the kingdom of God. That which is born of the flesh is flesh, and that which is born of the Spirit is spirit.
•  Likewise, John the Baptist testified:  John 1:31.  for this purpose I came baptizing with water, that he might be revealed to Israel.
This was my personal experience, as well.  I spent a great deal of time seeking God in prayer.  Yet even after repentence, fasting, prayer and much Bible study, I could not hear from God and did not have any dreams from him.  With some help from a prayer ministry, I realized that I was not in compliance with the Biblical teachings, having only been baptized as a baby.  After I was baptized again (full immersion), I began having dreams from the Lord.  Water Baptism was a critical step to entering God's Kingdom beyond salvation.
The Bible further teaches that some of the amazing stories of the Old Testament foreshadowed baptism:
•  1 Corinthians 10:1-6.  For I do not want you to be unaware, brothers, that our fathers were all under the cloud, and all passed through the sea, and all were baptized into Moses in the cloud and in the sea, and all ate the same spiritual food, and all drank the same spiritual drink. For they drank from the spiritual Rock that followed them, and the Rock was Christ. Nevertheless, with most of them God was not pleased, for they were overthrown in the wilderness. Now these things took place as examples for us, that we might not desire evil as they did.
•  1 Peter 3:18-22.  For Christ also suffered once for sins, the righteous for the unrighteous, that he might bring us to God, being put to death in the flesh but made alive in the spirit, in which he went and proclaimed to the spirits in prison, because they formerly did not obey, when God's patience waited in the days of Noah, while the ark was being prepared, in which a few, that is, eight persons, were brought safely through water. Baptism, which corresponds to this, now saves you, not as a removal of dirt from the body but as an appeal to God for a good conscience, through the resurrection of Jesus Christ, who has gone into heaven and is at the right hand of God, with angels, authorities, and powers having been subjected to him.
•  2 Kings 5.  So Naaman [the leper] went with his horses and chariots and stopped at the door of Elisha's house. Elisha sent a messenger to say to him, "Go, wash yourself seven times in the Jordan, and your flesh will be restored and you will be cleansed." But Naaman went away angry … Naaman's servants went to him and said, "My father, if the prophet had told you to do some great thing, would you not have done it? How much more, then, when he tells you, 'Wash and be cleansed'!" So he went down and dipped himself in the Jordan seven times, as the man of God had told him, and his flesh was restored and became clean like that of a young boy.
Other Baptisms
Paul considered the doctrine of baptisms so basic, that he longed to move beyond it.
•  Hebrews 6:1-3.  Therefore leaving the principles of the doctrine of Christ, let us go on unto perfection; not laying again the foundation of repentance from dead works, and of faith toward God, Of the doctrine of baptisms, and of laying on of hands, and of resurrection of the dead, and of eternal judgment. And this will we do, if God permit.
And indeed there are other baptisms:
•  Matthew 3:11-12.  John the Baptist:  "I baptize you with water for repentance, but he who is coming after me is mightier than I, whose sandals I am not worthy to carry. He will baptize you with the Holy Spirit and fire.
•  Matthew 20:20-23.  Then came to him the mother of Zebedees children with her sons … She saith unto him, Grant that these my two sons may sit, the one on thy right hand, and the other on the left, in thy kingdom.  But Jesus answered and said, Ye know not what ye ask. Are ye able to drink of the cup that I shall drink of, and to be baptized with the baptism that I am baptized with?  They say unto him, We are able.  And he saith unto them, Ye shall drink indeed of my cup, and be baptized with the baptism that I am baptized with: but to sit on my right hand, and on my left, is not mine to give, but it shall be given to them for whom it is prepared of my Father.
These baptisms are beyond the scope of this page.  I recommend Neville Johnson's teaching on The First Principles, referenced in the Resources page.  See here and here in pdf and here and here in video.
…
Erik
February 2013