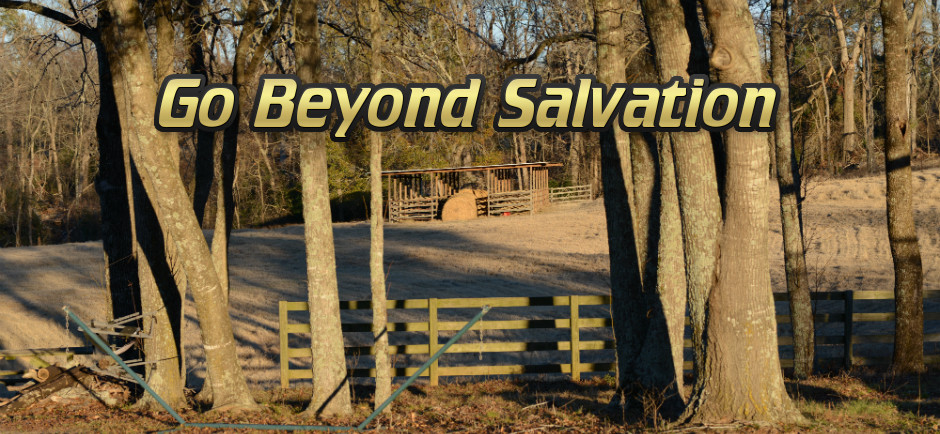 Salvation
Salvation is more than making it into Heaven at death.  It's salvation now from things that hold is bondage to sin.  It's relationship with God.  Making Jesus your Lord is the path of life.  And we must continue in Him.   My version of the Sinner's Prayer is below.  Pray it with sincerity.  If you fall off the path, get back on.
Lord Jesus Christ, son of the living God, I confess that I am a sinner. I repent of my sins and ask your forgiveness. I thank you for sacrificing yourself on the cross so that I may be cleansed by your blood. I believe that God has raised you from the dead and given you all power and authority. I hereby make you Lord of my life and devote myself to you. Please come into my heart and be my Savior. Praise the holy name of Jesus! Amen.
(or more simply: repent of your sins, believe in Jesus and make Jesus Lord)
And quickly get baptized under water, so that your old nature of sin is burried and washed away, increasing your power to continue in what you promised:
•  Acts 22:16. And now why do you wait? Rise and be baptized and wash away your sins, calling on his name.
•  See Baptism is Critical.
Here are some verses for your blessing:
•  John 14:6.  Jesus answered, "I am the way and the truth and the life. No one comes to the Father except through me."
•  Romans 10:9-10.  because, if you confess with your mouth that Jesus is Lord and believe in your heart that God raised him from the dead, you will be saved. For with the heart one believes and is justified, and with the mouth one confesses and is saved.  (Romans 8:13.  For if you live according to the flesh you will die, but if by the Spirit you put to death the deeds of the body, you will live.)
•  Psalm 103:12.  as far as the east is from the west, so far has he removed our transgressions from us.  Hebrews 10:17.  I will remember their sins and their lawless deeds no more.
You Must Continue to Walk with Jesus
There's so much dead theology out there.  Salvation is NOT a magic-words theory for fire insurance.  Salvation is making Jesus Christ the Lord of your life.  Jesus was not crucified so that we could sin as much as we wanted.  Jesus died so that we could have Him live in us, and turn from the slavery of sin.  Some preachers honor their traditions and passions above the word of God.  But God does not break his word.  These principles are stated over-and-over again in the Bible.
•  Jesus' message is presented in a one word instruction in Matthew 4:17:  From that time on Jesus began to preach, "Repent, for the kingdom of heaven has come near."
•  Matthew 7:16-23.  Are grapes gathered from thornbushes, or figs from thistles? So, every healthy tree bears good fruit, but the diseased tree bears bad fruit. … Every tree that does not bear good fruit is cut down and thrown into the fire. Thus you will recognize them by their fruits.  "Not everyone who says to me, 'Lord, Lord,' will enter the kingdom of heaven, but the one who does the will of my Father who is in heaven. On that day many will say to me, 'Lord, Lord, did we not prophesy in your name, and cast out demons in your name, and do many mighty works in your name?' And then will I declare to them, 'I never knew you; depart from me, you workers of lawlessness.'   (See also Matthew 5:13.)
•  John 15:1-6.  I am the true vine, and my Father is the gardener. He cuts off every branch in me that bears no fruit, while every branch that does bear fruit he prunes so that it will be even more fruitful. You are already clean because of the word I have spoken to you. Remain in me, as I also remain in you. No branch can bear fruit by itself; it must remain in the vine. Neither can you bear fruit unless you remain in me.  "I am the vine; you are the branches. If you remain in me and I in you, you will bear much fruit; apart from me you can do nothing. If you do not remain in me, you are like a branch that is thrown away and withers; such branches are picked up, thrown into the fire and burned.  (See also John 8:31. If you continue in my word, then are you my disciples indeed.)
•  1 John 1:6.  If we claim to have fellowship with him and yet walk in the darkness, we lie and do not live out the truth.  (See also 1 John 2:15; James 1:22; and James 2:17)
•  Hebrews 2:1-3.  We must pay the most careful attention, therefore, to what we have heard, so that we do not drift away. For since the message spoken through angels was binding, and every violation and disobedience received its just punishment, how shall we escape if we ignore so great a salvation?
•  Hebrews 10:26-27.  If we deliberately keep on sinning after we have received the knowledge of the truth, no sacrifice for sins is left, but only a fearful expectation of judgment and of raging fire that will consume the enemies of God.
•  Parable of the Sower.  Matthew 13:20-21.  As for what was sown on rocky ground, this is the one who hears the word and immediately receives it with joy, yet he has no root in himself, but endures for a while, and when tribulation or persecution arises on account of the word, immediately he falls away.
Don't be discouraged though.  We all have many, many failures.  (Proverbs 24:16.)  Most of us aren't made perfect in a day.  But like a child, we can grow and learn and love.  Stay on the path, striving to continually become more like Jesus.  When you make a mistake, repent and move on.  You will be tested, sometimes to the point of failure.  That's the place to start learning again.  Confess the problem to Jesus, and ask for His help. (Hebrews 2:18.)  I don't know anyone strong enough to conquer sin on their own.  Turn it over to Jesus.  Ask Him to change you.  Personally, I am deeply grateful for having a merciful God of second chances (and beyond).  (I include the verses above because there are so many who believe it's OK to keep being evil.)
Go Beyond Salvation
The Gospel is a person, Jesus Christ.  The Bible is a revelation of Him.  We are made to advance in Jesus.  (Galations 2:20.)  Some churches talk about moral lessons; others talk about healthy living or prosperity; others focus on salvation.  But I haven't seen much instruction on how to do the works of God beyond salvation.  We need to learn how to bear fruit.  This includes the skills to prophecy, heal, evangelize, pray, and to serve others in Christ.
We are Meant to Bear Fruit on Earth
Your opportunity to bear fruit and to grow in Christ is right now, while you are on Earth.  To my knowledge, there are no sinners to be saved in Heaven, nor are there hard circumstances, abusive people or demons to overcome.  There may be work to be done in Heaven.  But it is here on Earth that you qualify for it.
•  Matthew 13:18-23.   "Hear then the parable of the sower: When anyone hears the word of the kingdom and does not understand it, the evil one comes and snatches away what has been sown in his heart. This is what was sown along the path. As for what was sown on rocky ground, this is the one who hears the word and immediately receives it with joy, yet he has no root in himself, but endures for a while, and when tribulation or persecution arises on account of the word, immediately he falls away. As for what was sown among thorns, this is the one who hears the word, but the cares of the world and the deceitfulness of riches choke the word, and it proves unfruitful. As for what was sown on good soil, this is the one who hears the word and understands it. He indeed bears fruit and yields, in one case a hundredfold, in another sixty, and in another thirty."
•  Matthew 21:18-19.  In the morning, as he was returning to the city, he became hungry. And seeing a fig tree by the wayside, he went to it and found nothing on it but only leaves. And he said to it, "May no fruit ever come from you again!" And the fig tree withered at once.
•  Parable of the Talents.  Matthew 25:24-30.  He also who had received the one talent came forward, saying, "Master, I knew you to be a hard man, reaping where you did not sow, and gathering where you scattered no seed, so I was afraid, and I went and hid your talent in the ground. Here you have what is yours." But his master answered him, "You wicked and slothful servant! You knew that I reap where I have not sown and gather where I scattered no seed? Then you ought to have invested my money with the bankers, and at my coming I should have received what was my own with interest. So take the talent from him and give it to him who has the ten talents. For to everyone who has will more be given, and he will have an abundance. But from the one who has not, even what he has will be taken away. And cast the worthless servant into the outer darkness. In that place there will be weeping and gnashing of teeth."
•  The Vine and the Branches.  John 15:2.   He cuts off every branch in me that bears no fruit, while every branch that does bear fruit he prunes so that it will be even more fruitful.
Accordingly, there is a lot here on Earth to strive for in our walk with Christ.  Here are a few examples, just in our pesonal growth:
•  Galations 5:22-23.  [T]he fruit of the Spirit is love, joy, peace, forbearance, kindness, goodness, faithfulness, gentleness and self-control.
•  1 Corinthians 14:1.  Pursue love, and earnestly desire the spiritual gifts, especially that you may prophesy.  (See also the nine spiritual gifts of 1 Corinthians 12: wisdom, knowledge, faith, healing, miracles, prophecy, discernment, tongues and interpretation.)
•  Philippians 3:12-14.  Not that I have already obtained this or am already perfect, but I press on to make it my own, because Christ Jesus has made me his own. Brothers, I do not consider that I have made it my own. But one thing I do: forgetting what lies behind and straining forward to what lies ahead, I press on toward the goal for the prize of the upward call of God in Christ Jesus.  (See also 1 Corinthians 9:24-27.)
In fact, God's original purpose for us is to be transformed into the image of Jesus.  (See Be Transformed by the Renewing of Your Mind)
•  Romans 8:29.  For those whom he foreknew he also predestined to be conformed to the image of his Son, in order that he might be the firstborn among many brothers.
There are Different Rewards in Heaven
Too many American Christians think the only goal is to make it into Heaven.  There is so much more.  The Bible teaches there are rewards in Heaven, and they are not all the same.
•  Matthew 6:19-21.  Do not lay up for yourselves treasures on earth, where moth and rust destroy and where thieves break in and steal, but lay up for yourselves treasures in heaven, where neither moth nor rust destroys and where thieves do not break in and steal. For where your treasure is, there your heart will be also.
•  Matthew 10:40-42.  Whoever receives you receives me, and whoever receives me receives him who sent me.  The one who receives a prophet because he is a prophet will receive a prophet's reward, and the one who receives a righteous person because he is a righteous person will receive a righteous person's reward.  And whoever gives one of these little ones even a cup of cold water because he is a disciple, truly, I say to you, he will by no means lose his reward.
•  Parable of the Ten Minas.  Luke 19:11-27.  …He was made king, however, and returned home. Then he sent for the servants to whom he had given the money, in order to find out what they had gained with it.  The first one came and said, "Sir, your mina has earned ten more."  "Well done, my good servant!" his master replied. "Because you have been trustworthy in a very small matter, take charge of ten cities."
   The second came and said, "Sir, your mina has earned five more."  His master answered, "You take charge of five cities."
   Then another servant came and said, "Sir, here is your mina; I have kept it laid away in a piece of cloth. I was afraid of you, because you are a hard man. You take out what you did not put in and reap what you did not sow."  His master replied, "I will judge you by your own words, you wicked servant!  You knew, did you, that I am a hard man, taking out what I did not put in, and reaping what I did not sow? Why then didn't you put my money on deposit, so that when I came back, I could have collected it with interest?" Then he said to those standing by, "Take his mina away from him and give it to the one who has ten minas."  "Sir," they said, "he already has ten!" He replied, "I tell you that to everyone who has, more will be given, but as for the one who has nothing, even what they have will be taken away." ….
•  1 Corinthians 15:40-41.  There is one glory of the sun, another glory of the moon, and another glory of the stars; for one star differs from another star in glory.  So also is the resurrection of the dead. ….
There are also different punishments in Hell.
•  2 Peter 2:20-21.  If they have escaped the corruption of the world by knowing our Lord and Savior Jesus Christ and are again entangled in it and are overcome, they are worse off at the end than they were at the beginning. It would have been better for them not to have known the way of righteousness, than to have known it and then to turn their backs on the sacred command that was passed on to them.
•  See also Sid Roth interviewing Mary Baxter about Hell.
We have a great opportunity here on Earth, to become sons of God for all the ages to come.
•  John 1:12-13.  But as many as received him, to them gave he power to become the sons of God, even to them that believe on his name: Which were born, not of blood, nor of the will of the flesh, nor of the will of man, but of God.
The prophetic community has people who testify about this.  Here are Neville Johnson and Bob Jones both testifying about three levels of Heaven, with paradise on the bottom and the Throne room at the top.  There are people who barely get into Heaven and are in Paradise (like the thief on the cross), but who can't get above that, at least not for a long time.  (Ecclesiastes 11:3).
We are Training and Qualifying to Rule for Christ
In the Parable of the Ten Minas (Luke 19:11-27), Jesus made this point specifically.  "Well done, my good servant!" his master replied. "Because you have been trustworthy in a very small matter, take charge of ten cities."  Here are a few more selections:
•  1 Corinthians 6:2-3.  Or do you not know that the saints will judge the world? And if the world is to be judged by you, are you incompetent to try trivial cases? Do you not know that we are to judge angels? How much more, then, matters pertaining to this life!
•  Romans 8:15-17.  … you have received the Spirit of adoption as sons, by whom we cry, "Abba! Father!" The Spirit himself bears witness with our spirit that we are children of God, and if children, then heirs—heirs of God and fellow heirs with Christ, provided we suffer with him in order that we may also be glorified with him."  (NIV: we are "co-heirs with Christ").
•  1 Corinthians 2:9-10.  But as it is written, Eye hath not seen, nor ear heard, neither have entered into the heart of man, the things which God hath prepared for them that love him. But God hath revealed them unto us by his Spirit: for the Spirit searcheth all things, yea, the deep things of God.
•  Revelation 1:5-6.  To Him who loved us and washed us from our sins in His own blood, and has made us kings and priests to His God and Father, to Him be glory and dominion forever and ever.  Revelation 3:21.  To him who overcomes I will grant to sit with Me on My throne, as I also overcame and sat down with My Father on His throne.
So Congratulations.  You have a rich destiny in Jesus Christ.  The time is now to overcome and to build a testimony for the Kingdom.
…
Erik
February 2013