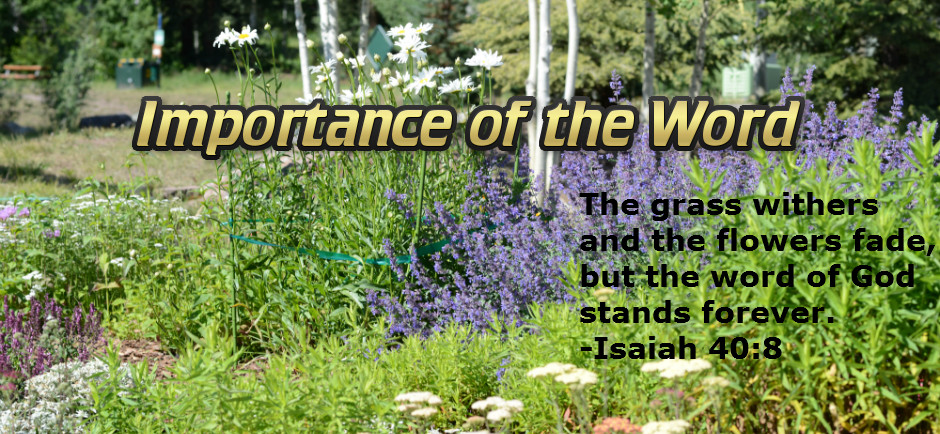 I start here, as an anchor, so we can place God's instructions above any tradition that might hinder us from obedience and understanding.
(1) Scripture is God-Breathed
First, it helps to realize what scripture is:
•  2 Peter 1:20-21. Above all, you must understand that no prophecy of Scripture came about by the prophet's own interpretation. For prophecy never had its origin in the will of man, but men spoke from God as they were carried along by the Holy Spirit.
•  2 Timothy 3:16-17. All scripture is given by inspiration of God, and is profitable for doctrine, for reproof, for correction, for instruction in righteousness: That the man of God may be perfect, thoroughly furnished unto all good works. (NIV: All Scripture is God-breathed)
•  Hebrews 4:12. For the word of God is alive and active. Sharper than any double-edged sword, it penetrates even to dividing soul and spirit, joints and marrow; it judges the thoughts and attitudes of the heart.
The Bible has a depth of meaning that works inside you.   As you mature in the Lord, you can read verses and see new meanings that you missed before.  There's always something new in the Word.  Moreover, Jesus himself is called the Word.  John 1:1-2.  Reading the Word is getting to know Jesus, and you can do it as an act of fellowship.  (This website is focused on Bible verses.)
In the dream, I was given tests.  For one of the tests, someone handed me a business card having a picture of a whale with an orange belly.  The person asked me what I saw.  I stopped to study the card, and I looked closely at it.  As I beheld the whale, I noticed it was made up of multiple layers, one on top of the other, that taken together made the image of the whale, but that individually were several whales stacked on top of each other with an orange whale at the very bottom.
(2) God Speaks to Us by Scripture
Quite simply, we learn about Jesus through reading the Word (and obeying), and the Holy Spirit speaks by reminding us of what we've read.
•  John 14:21-26. Whoever has my commands and obeys them, he is the one who loves me. He who loves me will be loved by my Father, and I too will love him and show myself to him. … But the Counselor, the Holy Spirit, whom the Father will send in my name, will teach you all things and will remind you over everything I have said to you.
The more you bank away in your mind about Jesus, the more you have to be reminded of – like when a scripture verse pops in your mind.  So feed your spirit, and meditate on what you read.  That's what Jesus did.
• Matthew 4:3-4. And the tempter came and said to him, "If you are the Son of God, command these stones to become loaves of bread." But he answered,"It is written, 'Man shall not live by bread alone, but by every word that comes from the mouth of God.'"
(3) We are Transformed by Scripture
Reading the Bible and spending time with God has tremendous effects, both renewing our mind and building up our faith.  Paul writes:
•  Romans 12:2. Do not conform to the pattern of this world, but be transformed by the renewing of your mind. Then you will be able to test and approve what God's will is—his good, pleasing and perfect will.
•  Romans 10:17. So then faith cometh by hearing, and hearing by the word of God.
•  Hebrews 11:1.  Now faith is the substance of things hoped for, the evidence of things not seen.
•  Hebrews 11:6.  And without faith it is impossible to please God, because anyone who comes to him must believe that he exists and that he rewards those who earnestly seek him.
•  John 15:3.  You are already clean because of the word which I have spoken to you.  John 17:17.  Sanctify them by Your truth. Your word is truth.
•  See also Proverbs 23:7.  For as he thinks in his heart, so is he….
Reading the Word is a great way to seek God for understanding. (Pray for the Holy Spirit to give you that understanding before you read.)  This concept is richly illustrated in the Parable of the Sower from Matthew 13 and Luke 8:1-21.  Jesus explained that He spoke in parables because the knowledge of the Kingdom wasn't given to everyone.  Notice also the language of God:  Don't the parables sound a lot like dreams?  Studying these parables is good practice for understanding dreams.  Hebrews 5:14 ("But solid food is for the mature, who by constant use have trained themselves to distinguish good from evil."); (I don't mean that all dreams are from God, but that the Holy Spirit can give you insight on which ones are.)
Matthew 13:1-23
.  That same day Jesus went out of the house and sat by the lake. Such large crowds gathered around him that he got into a boat and sat in it, while all the people stood on the shore. Then he told them many things in parables, saying: "A farmer went out to sow his seed. As he was scattering the seed, some fell along the path, and the birds came and ate it up. Some fell on rocky places, where it did not have much soil. It sprang up quickly, because the soil was shallow. But when the sun came up, the plants were scorched, and they withered because they had no root. Other seed fell among thorns, which grew up and choked the plants. Still other seed fell on good soil, where it produced a crop—a hundred, sixty or thirty times what was sown. Whoever has ears, let them hear."
The disciples came to him and asked, "Why do you speak to the people in parables?"
He replied, "Because the knowledge of the secrets of the kingdom of heaven has been given to you, but not to them. Whoever has will be given more, and they will have an abundance. Whoever does not have, even what they have will be taken from them. This is why I speak to them in parables:
"Though seeing, they do not see; though hearing, they do not hear or understand. In them is fulfilled the prophecy of Isaiah: 'You will be ever hearing but never understanding; you will be ever seeing but never perceiving. For this people's heart has become calloused; they hardly hear with their ears, and they have closed their eyes. Otherwise they might see with their eyes, hear with their ears, understand with their hearts and turn, and I would heal them.'"
"But blessed are your eyes because they see, and your ears because they hear. For truly I tell you, many prophets and righteous people longed to see what you see but did not see it, and to hear what you hear but did not hear it."
"Listen then to what the parable of the sower means: When anyone hears the message about the kingdom and does not understand it, the evil one comes and snatches away what was sown in their heart. This is the seed sown along the path. The seed falling on rocky ground refers to someone who hears the word and at once receives it with joy. But since they have no root, they last only a short time. When trouble or persecution comes because of the word, they quickly fall away. The seed falling among the thorns refers to someone who hears the word, but the worries of this life and the deceitfulness of wealth choke the word, making it unfruitful. But the seed falling on good soil refers to someone who hears the word and understands it. This is the one who produces a crop, yielding a hundred, sixty or thirty times what was sown."
In contrast, not listening and not doing lead to darkness:
•  Ephesians 4:17-24. … you must no longer walk as the Gentiles do, in the futility of their minds. They are darkened in their understanding, alienated from the life of God because of the ignorance that is in them, due to their hardness of heart. They have become callous … But that is not the way you learned Christ!
•  Romans 1:21.  For although they knew God, they did not honor him as God or give thanks to him, but they became futile in their thinking, and their foolish hearts were darkened.
•  John 12:37-40.  Though he had done so many signs before them, they still did not believe in him, so that the word spoken by the prophet Isaiah might be fulfilled. ….
Paul also writes about wearing the armor of God, and he mentions the Word and the Gospel twice.  Have you ever had dreams where you don't have shoes on?  They make more sense after reading Ephesians:
•  Ephesians 6:10-20.  … Stand therefore, having fastened on the belt of truth, and having put on the breastplate of righteousness, and, as shoes for your feet, having put on the readiness given by the gospel of peace. In all circumstances take up the shield of faith, with which you can extinguish all the flaming darts of the evil one; and take the helmet of salvation, and the sword of the Spirit, which is the word of God, praying at all times in the Spirit, with all prayer and supplication.
 A few tips:  You can move faster by:
Talking about what you've studied with someone

. (Deuteronomy 6:6-9 "These commandments that I give you today are to be on your hearts. Impress them on your children. Talk about them when you sit at home and when you walk along the road, when you lie down and when you get up.")  I've heard testimony that people experienced miracles while talking about God.  Also, sharing testimony is a critical function of Christianity.  See, e.g., Matthew 5: 19 "Therefore anyone who sets aside one of the least of these commands and teaches others accordingly will be called least in the kingdom of heaven, but

whoever practices and teaches

these commands

will be called great

in the kingdom of heaven."

Taking Notes

.  There's a premium on organization.  It helps your own learning, and your ability to explain things to others.  Writing things down also consolidates and preserves what you've learned (note how multiple verses are quoted above for a single topic; this came from my notes).  Definitely do this with dreams.  I've seen dreams that didn't make sense at the time, but that had great meaning even years later.

Prayer, worship and thanksgiving

.  For example, praying the Psalms.  Pray God's will, and not selfish motives.  James 4:3; Matthew 6:5-15.

Eliminating distractions

or anything that fills your head with other things, particularly things that are unholy (lots of TV and movies these days).  I had a dream about it:
A lot of my dreams have been corrective, and I appreciate it.  In one, I was once again wrestling with a large snake, holding it by the head so it couldn't bite me.  (I'd often had dreams about my legal career as snake wrangling, considering all the deadlines, arguments and drama.) Then the Lord appeared (I couldn't tell what He looked like, but I knew instinctively it was Him) and began answering every question I ever had and explaining why I had thus far failed to break free from this type of career.  Only problem was, there was too much noise around me, and I couldn't hear him.  So I interrupted to tell him, "I can't hear you."  But he shrugged his shoulders and gave me a knowing look, and kept talking.  Since that dream, I've cut a lot of noise out, but I haven't gotten any further explanations, and I do feel like I've missed some opportunities.  So my own journey continues.
Next, Those Who Recognized Jesus – as a baby
…
Erik
February 2013