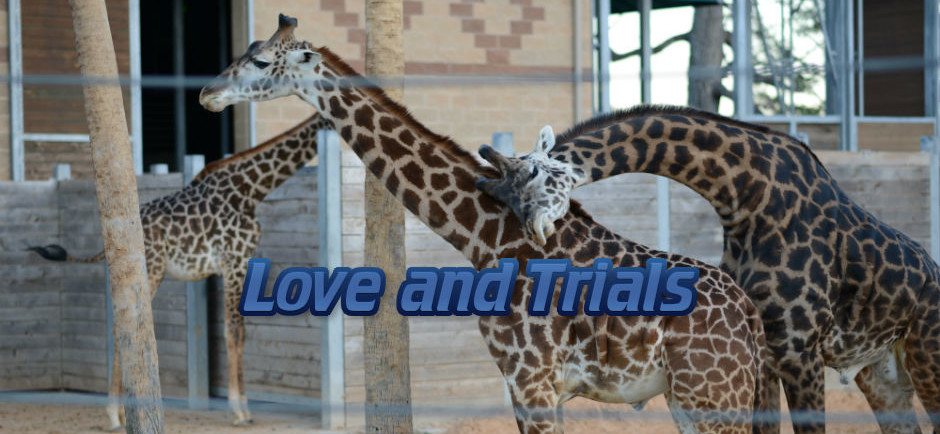 Intro
Something has been lost in understanding how to go through trials in a loving way.  Many churches preach a message tailored for well-to-do Americans.  You've all heard it.  Say the magic words, join the club, then God will take care of your every need.  The message focuses on our selfish desires.  I certainly agree that God takes care of us.  But I stand amazed at the life people must lead to never have serious problems while practicing Christianity.  We are made to be overcomers.  (Revelation 3:21).  It's well documented that God uses or allows testing to promote us.  (See, e.g., Matthew 4, when Jesus spent 40 days fasting and being tested by the devil before beginning his ministry; and Luke 22:31-32.  See also the book of Job.)  I have nothing against prosperity, and indeed, God does bless us richly.  But I strongly disagree with the fiction that nothing bad ever happens to Christians.  (Psalm 34:19; 2 Timothy 3:12).  As times grow darker, we must learn how to go through difficult circumstances like a true disciple of Christ, in love.
Christians go through Trials
What athlete trains by being pampered?  We are training and qualifying to rule/serve in Christ's Kingdom.  (Matthew 20:26; see Go Beyond Salvation).  It should be no surprise when we are tested or trained through difficult circumstances.  The message of the Bible is to go through these times with joy.
•  James 1:2-4.  Count it all joy, my brothers, when you meet trials of various kinds, for you know that the testing of your faith produces steadfastness. And let steadfastness have its full effect, that you may be perfect and complete, lacking in nothing.  James 1:12.  Blessed is the man who remains steadfast under trial, for when he has stood the test he will receive the crown of life, which God has promised to those who love him.
•  1 Peter 4:12.  Beloved, do not be surprised at the fiery trial when it comes upon you to test you, as though something strange were happening to you.  But rejoice….
•  1 Corinthians 4:9.  For I think that God has exhibited us apostles as last of all, like men sentenced to death, because we have become a spectacle to the world, to angels, and to men.
•  Parable of the vine.  John 15:1-2.  I am the true vine, and my Father is the vinedresser. Every branch in me that does not bear fruit he takes away, and every branch that does bear fruit he prunes, that it may bear more fruit.
Conformed to Image of Jesus
If you quote Romans 8:28, please read Romans 8:29.  Yes, all things work together for our good, but our good is to be conformed to the image of Jesus Christ.  Being more like Jesus promotes you in Heaven.  Jesus was crowned with glory through suffering.  (Hebrews 2:9-10.)  Of course, we are to seek peace and not trouble.  But sometimes trouble comes while seeking peace.
•  Romans 8:28-29.  And we know that for those who love God all things work together for good, for those who are called according to his purpose. For those whom he foreknew he also predestined to be conformed to the image of his Son, in order that he might be the firstborn among many brothers.
•  Hebrews 10:34.  For you had compassion on those in prison, and you joyfully accepted the plundering of your property, since you knew that you yourselves had a better possession and an abiding one.  Hebrews 11:35.  Some were tortured, refusing to accept release, so that they might rise again to a better life.
•  Hebrews 12:1-7.  [S]ince we are surrounded by so great a cloud of witnesses, let us also lay aside every weight, and sin which clings so closely, and let us run with endurance the race that is set before us, looking to Jesus, the founder and perfecter of our faith, who for the joy that was set before him endured the cross, despising the shame, and is seated at the right hand of the throne of God. … It is for discipline that you have to endure.  God is treating you as sons.  Hebrews 5:8.  Although he was a son, he learned obedience through what he suffered.
•  See also The Beatitudes, or blessings for persecution in Matthew 5.
Respond to Rejection with Love
Jesus teaches that Christians can expect rejection from a world that doesn't accept Him as its Lord.
•  John 7:7.  The world … hates me because I testify about it that its works are evil.
•  John 15:19-20.  If you were of the world, the world would love you as its own; but because you are not of the world, but I chose you out of the world, therefore the world hates you. Remember the word that I said to you: "A servant is not greater than his master."  If they persecuted me, they will also persecute you. If they kept my word, they will also keep yours.
The most hurtful rejection can come from the people you love most: your own family.
•  Matthew 10:21-22.  Brother will deliver brother over to death, and the father his child, and children will rise against parents and have them put to death, and you will be hated by all for my name's sake. But the one who endures to the end will be saved.
•  Matthew 10:34-39.  Do not think that I have come to bring peace to the earth. I have not come to bring peace, but a sword.  For I have come to set a man against his father, and a daughter against her mother, and a daughter-in-law against her mother-in-law.  And a person's enemies will be those of his own household.  Whoever loves father or mother more than me is not worthy of me, and whoever loves son or daughter more than me is not worthy of me.  And whoever does not take his cross and follow me is not worthy of me. Whoever finds his life will lose it, and whoever loses his life for my sake will find it.
Someone who's just found Jesus or had a spiritual experience (e.g., Spirit Baptism) will want to tell their loved ones.  But family and friends often react poorly.  They like drinking at bars or much worse things.  They don't want to read the Bible at night.  They may lash out if they feel convicted of their own sin, even if the new Christian doesn't say anything at all.
Jesus taught about these problems in the Parable of the Sower.  Matthew 13:20-21.  "As for what was sown on rocky ground, this is the one who hears the word and immediately receives it with joy, yet he has no root in himself, but endures for a while, and when tribulation or persecution arises on account of the word, immediately he falls away."  This is why it's critical to get water-baptized quickly upon salvation or recommitment to Christ, gaining the spiritual power to endure.  (See Baptism is Critical, discussing how water-baptism has a very real spiritual effect.)
New Christians need to be prepared to respond to rejection in love.   Love is how to demonstrate Christ to your family, continue in Christ, and get blessings out of curses.
•  Luke 6:27-28.  But I say to you who hear, Love your enemies, do good to those who hate you, bless those who curse you, pray for those who abuse you
•  1 Peter 3:9.  Do not repay evil for evil or reviling for reviling, but on the contrary, bless, for to this you were called, that you may obtain a blessing.
•  1 John 2:10.  Whoever loves his brother abides in the light, and in him there is no cause for stumbling. 1 John 4:8. God is Love.  John 15:12. This is My commandment, that you love one another as I have loved you.
•  Paul taught that the way of love is better than spiritual gifts.  1 Corinthians 12:31-13:13.  And I will show you a still more excellent way.  If I speak in the tongues of men and of angels, but have not love, I am a noisy gong or a clanging cymbal….
(As our society grows darker, we can't do things the same way; promising blessings for reciting a form prayer while neglecting quick preparation.  Christians need roots immediately, not just an invitation to more church classes (which they may not have time for).  New Christians will be confronted with the troubles of the world the moment they go back into the world.  Training needs to be quick and honest.  Churches desperately need a new model of communicating.  Long-winded sermons about a single moral point and months of church classes just aren't fast enough.)
Escape Trouble
By all means, when you have trouble, look for a way of escape.  God often warns us in dreams (see God Speaks in Dreams), and creates a way out.   Sometimes you have to walk through the fire (Daniel 3), but a lot of times, you can get out of harms' way.
•  1 Corinthians 10:13.  No temptation has overtaken you that is not common to man. God is faithful, and he will not let you be tempted beyond your ability, but with the temptation he will also provide the way of escape, that you may be able to endure it.
•  Proberbs 22:3.  A prudent man sees danger and takes refuge, but the simple keep going and suffer for it.
•  Matthew 5:9.  Blessed are the peacemakers, for they will be called children of God.
Finally, be wise.  I've heard preachers that don't believe in being prepared for anything.  Trust God, they say.  But they don't listen when God sends warnings, or even pay attention to the world around them.  It's like walking down train tracks while wearing a blindfold and refusing to listen if someone says get out of the way.  That isn't wisdom.  The Bible encourages being prepared.
•  Genesis 41:46-57.  Joseph was thirty years old when he entered the service of Pharaoh king of Egypt. … During the seven years of abundance the land produced plentifully. Joseph collected all the food produced in those seven years of abundance in Egypt and stored it in the cities. In each city he put the food grown in the fields surrounding it.  … The seven years of abundance in Egypt came to an end, and the seven years of famine began, just as Joseph had said. … And all the world came to Egypt to buy grain from Joseph, because the famine was severe everywhere.
•  Luke 22:35-36.  Then Jesus asked them, "When I sent you without purse, bag or sandals, did you lack anything?"  "Nothing," they answered.  He said to them, "But now if you have a purse, take it, and also a bag; and if you don't have a sword, sell your cloak and buy one."
…
Erik
March 2013