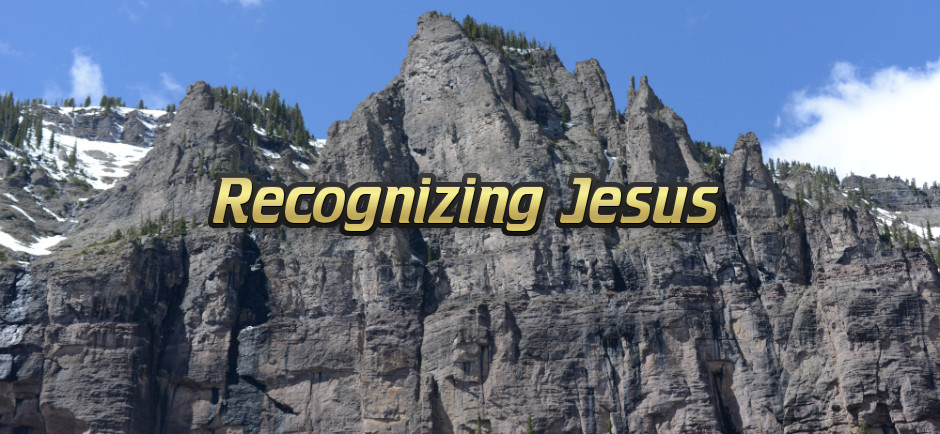 Those living in repentence, fellowship with God and obedience have the ability to recognize God and what He is saying or doing.   (See Importance of the Word for basic discussion.)  This is made dramatically clear by the stories of those who recognized Jesus and those who did not.
Those who recognized Jesus – as a baby
Scripture records people walking closely with God, who recognized Jesus even as He was just a baby.  There were the Wise men from the East, who knew the time of his coming, sought and found him, and worshipped him as a baby. (Matthew 2:11).  There were the shepherds visited by Angels (Luke 2:8-16).  There was also Elizabeth the mother of John the Baptist, and Simeon and Anna at the temple:
•  Luke 1:41-45.  When Elizabeth heard Mary's greeting, the baby leaped in her womb, and Elizabeth was filled with the Holy Spirit. In a loud voice she exclaimed: "Blessed are you among women, and blessed is the child you will bear! But why am I so favored, that the mother of my Lord should come to me? As soon as the sound of your greeting reached my ears, the baby in my womb leaped for joy. Blessed is she who has believed that the Lord would fulfill his promises to her!"
•  Luke 2:25-28.  Now there was a man in Jerusalem called Simeon, who was righteous and devout. He was waiting for the consolation of Israel, and the Holy Spirit was on him. It had been revealed to him by the Holy Spirit that he would not die before he had seen the Lord's Messiah. Moved by the Spirit, he went into the temple courts. When the parents brought in the child Jesus to do for him what the custom of the Law required, Simeon took him in his arms and praised God.
•  Luke 2:36-38.  There was also a prophet, Anna, the daughter of Penuel, of the tribe of Asher. She was very old; she had lived with her husband seven years after her marriage, and then was a widow until she was eighty-four. She never left the temple but worshiped night and day, fasting and praying. Coming up to them at that very moment, she gave thanks to God and spoke about the child to all who were looking forward to the redemption of Jerusalem.
These were people living in contact with God, and they had no trouble recognizing him.
The first disciples recognized Jesus as Messiah too.  We typically think of them as fisherman, who dropped their nets and followed Jesus when he called.  (Matthew 4:18-22).  But in John 1, we learn that Peter, Andrew, John, James, Phillip, and Nathaniel were closely tied to John the Baptist.  Andrew was a disciple of John the Baptist, and the apostle John may have been as well.  These pairs of young men were all from Bethsaida (John 1:44), and would've known each other.  The time spent seeking God and learning from John the Baptist prepared their hearts to follow the Lord when he called.
Jesus later explained that He is the Good Shepherd and His sheep know his voice:
•  John 10:3-5. The sheep hear his voice, and he calls his own sheep by name and leads them out. When he has brought out all his own, he goes before them, and the sheep follow him, for they know his voice. A stranger they will not follow, but they will flee from him, for they do not know the voice of strangers.
And Jesus reveals himself to those who have his commands and obey them:
•  John 14:21-26. Whoever has my commands and obeys them, he is the one who loves me. He who loves me will be loved by my Father, and I too will love him and show myself to him. … But the Counselor, the Holy Spirit, whom the Father will send in my name, will teach you all things and will remind you of everything I have said to you.
Those Who Did Not Recognize Jesus
In contrast, the leaders of Jesus' time could not recognize Him, even when He was healing the sick, restoring sight to the blind and raising the dead.  This was one of the most religious societies in all history.  (They fasted twice a week, gave 10% of income, wore wide phylacteries, prayed in public, etc.  Luke 18:11-12 & Matthew 23:5.)  They had the testimony of John the Baptist (Matthew 3:11-12), and they knew that it was the predicted time for the Anointed One (Daniel 9:24-26) spoken of throughout scripture.  But their hearts weren't focused on God, they failed to recognize Him, and they brought a curse on themselves of spiritual blindness and destruction.  Within 40 years, Jerusalem was destroyed (circa 70 A.D.).
• John 8:42-47.  Jesus said to them, "If God were your Father, you would love me, for I came from God and now am here. I have not come on my own; but he sent me. Why is my language not clear to you? Because you are unable to hear what I say.
•  John 10:24-28.  The Jews gathered around him, saying, "How long will you keep us in suspense? If you are the Christ, tell us plainly." Jesus answered, "I did tell you, but you do not believe. The miracles I do in my Father's name speak for me, but you do not believe because you are not my sheep.  See also John 12:37-40 (fulfilling Isaiah's prophecy that because of unbelief He has blinded their eyes and hardened their hearts).
•  Luke 19:41-44.  As he approached Jerusalem and saw the city, he wept over it and said, "If you, even you, had only known on this day what would bring you peace—but now it is hidden from your eyes. The days will come upon you when your enemies will build an embankment against you and encircle you and hem you in on every side. They will dash you to the ground, you and the children within your walls. They will not leave one stone on another, because you did not recognize the time of God's coming to you."
Spiritual blindness is a first curse for rejecting God.  Jesus explained details in Luke 11:14-28.  A house can be swept clean and put in order, but if it isn't filled with something stronger than what was evicted, what was evicted can come back in greater multitudes.  Quite simply, we need to fill ourselves up with Jesus.
Remarkably, Bethsaida itself is on the list of places cursed with woe for not receiving Jesus.  (Matthew 11:20-22).  Bethsaida is where the first disciples were from, near where John the Baptist taught, where Jesus performed many miracles.  Yet, by Mark 8:21-23, when Jesus healed a blind man, he led him out of the city to do this work.
In Our Times
If you've noticed America's moral decline, you know we have a serious need for discernment of the times (e.g., Ecclesiastes 3:1-8) and wisdom to know what to do (e.g., 1 Chronicles 12:23-38).
•  Amos 3:7.  Surely the Sovereign Lord does nothing without revealing his plan to his servants the prophets.
•  1 Corinthians 14:1.  Follow the way of love and eagerly desire gifts of the Spirit, especially prophecy.
In this time, God is doing new works.  A lot of spiritual knowledge has been released, and it seems to be growing at a fast pace now.  Historically, the old order has always opposed the new.  Yet those who walk closely with the Lord should have no trouble recognizing Him in new teachings and new structure.
If you do have trouble, here are some ways to proceed.  First, spend time with the Lord, and become more like him, and then his works will be easier to recognize.  You can ask him for wisdom too.  (James 1:5).  Second, the heart of the new is for intimacy with God and helping others.  The fruit of that should be easy to see.  (Matthew 7:16; Proverbs 20:11; John 15).  But even if you can't see, please don't persecute those of us who have devoted so much to seeking God.
…
Erik
February 2013